Printable Thanksgiving crafts are great for allowing your preschooler to explore her creativity and keep her busy. Plus, they are free!
With little prep and endless opportunities to customize them, this is one Thanksgiving craft you will want to add to your project list.
Why Making a Bookmark Thanksgiving Craft is So Great for Preschoolers
Thanksgiving is all about being grateful and showing that gratitude.
By making this Thanksgiving craft, your little one can give her bookmarks to people she is grateful for.
Because they are cheap and easy to make, she can make as many as she wants.
Plus, they aren't time intensive, and each one is unique.
This article may contain affiliate links to products that may help you when homeschooling preschool.
While coloring, your little one will work on her fine motor and decision-making skills.
The more these skills are worked on, the stronger they become.
Fine motor skills are the ones that build strong hands and allow her to zip a zipper, tie her shoes, and hold a pencil.
Furthermore, your preschooler can imagine what she wants the bookmark to look like and bring her vision to life.
This Thanksgiving craft is a simple way to work on this skill while still being in a low-pressure environment (with low stakes if things don't go her way).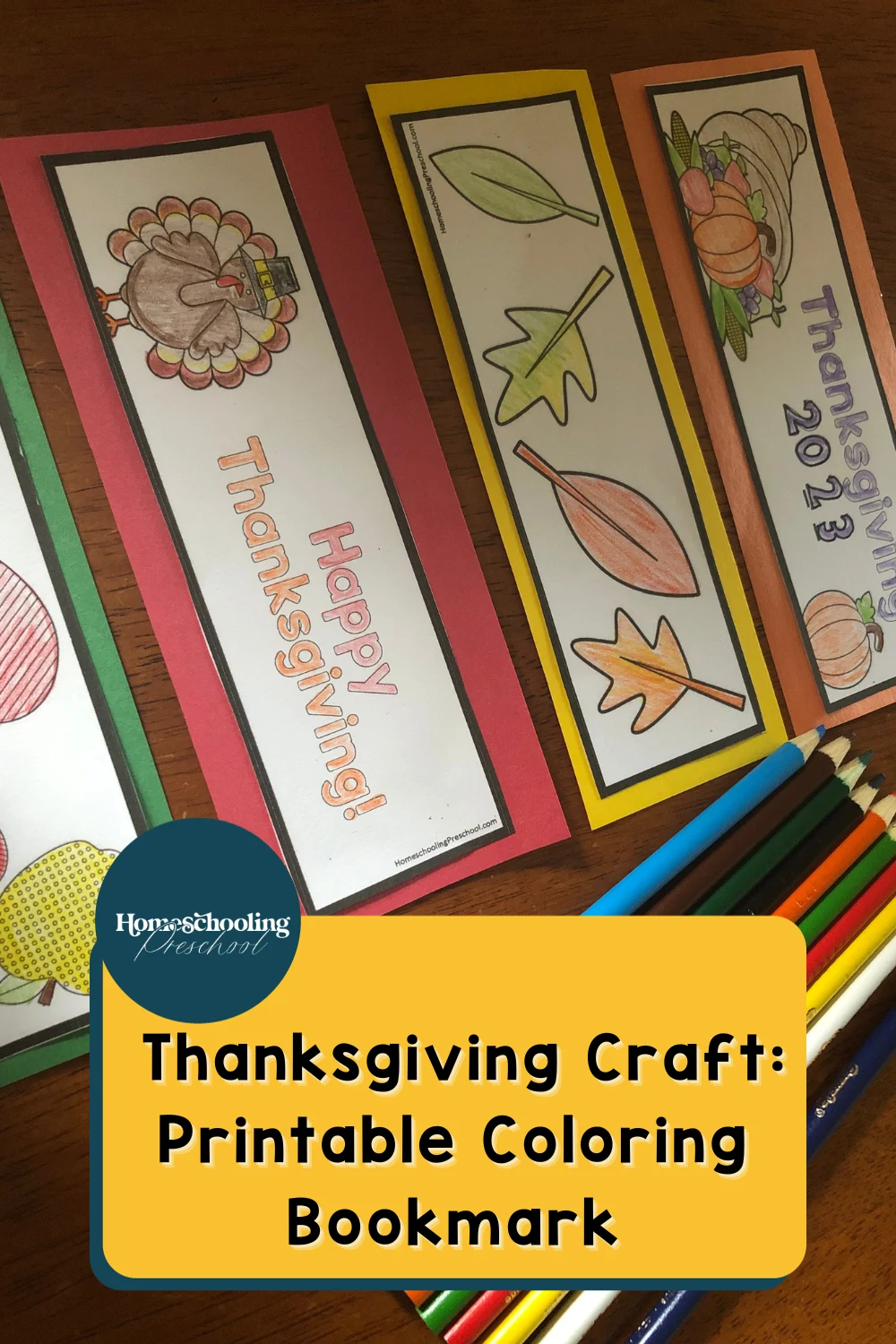 Ideas for Materials to Decorate It
colored pencils
crayons
fine tip markers
construction paper
colored cardstock
glitter paper
cut-out shapes
glitter (only if laminating)
yarn, string, chenille stems (for tassels)
stamps
stickers
How to Make it
1. Print out the Thanksgiving craft template after downloading it below (use our single sign-up to access all Exclusive content or sign in) using cardstock.
2. If multiple children are coloring the bookmarks, cut them apart now. If one child is coloring the whole sheet, wait to cut them out.
It may seem a bit odd to have two different sets of directions but hear me out.
By keeping them all on one sheet, the extra color from the crayons and markers is on the paper around the bookmarks instead of on the kitchen table.
Plus, some aren't getting lost. 😉
3. Then, have the little one color the bookmarks. Colored pencils and crayons work best because the outlines of the designs are still visible even if they are colored over.
4. Cut out the bookmarks (if not already done so).
Optional Add Ons
Background
Using colored cardstock or construction paper, cut out a rectangle slightly longer and wider than the bookmark.
Glue the bookmark to the middle of the colored rectangle.
Stickers, Stamps, Cut- Out Shapes
Decorate the back of the bookmark and any open space with stickers, stamps, or cut-outs.
This is a great way to personalize the bookmark if using letter stamps.
Laminate
Stick the bookmark between a folded-over sheet of contact paper (sticky sides facing the bookmark).
Laminating not only extends the bookmark's life but also traps in sneaky glitter and ink from stamps or markers and prevents stickers from peeling.
Tassels
Punch a hole near the top of the bookmark.
Thread a piece of yarn (or chenille stem) through the hole. Tie the yarn to create a tassel.
More Thanksgiving Fun
Grateful Thanksgiving Banner Craft
Napkin Ring Craft for Thanksgiving
Thanksgiving Activities for Preschoolers
Printable Thanksgiving Placemat
Happy Thanksgiving Coloring Page (This would make a great placemat, too)
Printable Thanksgiving Bookmarks
This Thanksgiving craft is a great way to excite your kids about Thanksgiving. Let them show their gratitude to others by making them Thanksgiving bookmarks.
You May Also Like…