Christmas is just around the corner. It's never too early to start preparing fun Christmas activities for preschoolers.
Why Do Christmas Activities for Preschoolers
Bring the fun and cheer to your preschool with these fun Christmas activities for preschool.
They are a great way to work on fine motor skills, coloring, making decisions, and finishing projects.
Many of these Christmas activities for preschoolers can be given to loved ones as gifts.
Preschool Christmas activities are included that the whole family can partake in!
This article may contain affiliate links to products that may help you when homeschooling preschool.
Preschool Christmas Activities
Create a beautiful Christmas tree using your preschooler's hand. It makes a perfect craft turned keepsake.
Learn about how other people around the world celebrate Christmas.
Curl up with a cozy blanket and read together some stories about Christmas.
Salt dough ornaments are a great way to remember how little your preschooler's hands were.
5. Decorate Christmas Bookmarks
Print on cardstock and let your little ones go to town decorating.
6. Mix Up Some Fake Snow to Play with Indoors
Bring the snow play inside when it gets too cold outdoors. This simple fake snow only uses two ingredients.
Use the linked tutorial to make DIY binoculars, but give them a Christmas spin by using green and red.
Everyone will love getting a picture frame ornament for a Christmas gift.
Holly ornaments are a fun way to bring the Christmas season into your decorations.
Remember those geo boards from elementary school with the pegs and rubber bands? A geo tree is like that but on a foam cone (tree) and uses golf tees as the pegs. Check out the link above for more details.
Who gets to start new traditions? You can! Check out this post about starting a new tradition.
Crafts with a purpose are always a hit around here. These lanterns are a win!
Handwriting can be a bit boring at times. Not any longer when you use these Christmas handwriting sheets.
14. Turn Writing into a Game with Roll and Write
This activity is written for older students, but don't let that stop you! Work together to roll and write a short story.
This four-things wish list has been a game changer for our family. The kids still get to dream and write down their wants but with more focus.
It helps to take the focus from material things to making memories and giving instead.
Learning fun facts is a favorite thing for kids to do. This list makes it easy to share knowledge with your little ones.
Add Christmas Wreath cookies to your baking list. This recipe is sure to be a delight.
Who doesn't love a good-themed joke?!
Check out this fun list of must-see Christmas movies.
It is a simple way to count down to Christmas using little energy and what you probably already have on hand.
What a marvelous way to count down to Christmas— with books!
Making Christmas slime will surely be a hit if you allow slime in your house.
A complete list of ideas to help celebrate Christmas Around the World with your little one.
Create a tree using paint chips!
25. Wrap Gifts and Write Out Gift Tags
Talk about excellent fine motor skill practice! Wrapping gifts and writing their names on gift tags will be a highlight of your preschool Christmas activities.
If you have the time and patience, these Christmas Perler Bead designs are beautiful when completed.
Practice number recognition with this festive color-by-number sheet.
28. Make a Few Different Kinds of Wreaths
There are many great ideas for ways to make wreaths. The link above has rounded up some of the best!
29. Create an Advent Calendar Combining Crafts and Holiday Fun
With over 15 ideas, you can find a fun homemade Advent calendar that will surely bring a smile to your little one's face.
Load up in the car or go on an after-dinner walk to look around your neighborhood for the items on this FREE holiday scavenger hunt.
Are your kids elf-obsessed? Let them create their own friendly elf.
What an adorable tree to create with your littles.
Use the tail end of the cereal bag on this fun Christmas craft.
Make the reindeer of your dreams!
Turn some twigs into a cute Christmas tree.
Check out this list of clever ways to reuse paper towel rolls for Christmas activities for preschoolers.
Choosing paint chips is a fun activity for preschoolers to do. Then taking them home to do crafts with them is even better!
Lacing is a great way to practice fine motor skills, too.
Make your pencils festive with these fun pencil toppers.
Felt is easy to come by and is an excellent fabric for preschoolers to use when doing Christmas activities.
What a fun way to bring in number recognition and drawing.
Most kids look forward to writing a letter to Santa. It's a great way to work on getting thoughts into sentences, too. Even if a parent is the one writing.
Reindeer games (and crafts) are always a good time.
Try out a few of these fun snowman crafts.
Bring Santa to life with these fun crafts.
Too cold to make a snowman outside? Try making a paper snowman instead.
There are many different nativity crafts to choose from on this beautiful list that is linked.
Make Santa your own with this print-and-go craft.
Some things hit differently when they are in 3D. Try your hand at this nativity scene.
These beaded snowflakes are easy to make perfect for bringing winter indoors.
50. Make Christmas Tree Snacks
Take waffle cones and frost green frosting on them. Then, use candies (like Twizzlers, M&Ms, and sprinkles) to decorate the Christmas trees.
51. Decorate Gingerbread Men
Cut out gingerbread men from brown construction paper. Decorate using craft supplies like googly eyes, chenille stems, pom poms, etc.
It's a holiday spin on the classic game of charades.
53. Make Popsicle Sticks Christmas Trees
Glue three popsicle sticks into a triangle. Attach a small piece of brown paper to the flat side to make the truck. Glue on a loop at the top of the Christmas tree. Decorate with pom poms, paint, and a star.
54. Make Christmas Lights with Paint
Draw loops on a large piece of paper (to make the wire of the Christmas lights). Let your preschooler use her thumb, pom poms, or mini marshmallows to dot paint right next to the wire to make the Christmas lights.
Not all of the Christmas activities for preschoolers have to be time-consuming! Print and go with these fun sheets.
56. Fizzing Candy Canes Experiment
Unwrap candy canes and get them slightly wet. Roll them around in baking soda (in a tray or pan). Use a pipette to squirt vinegar on the candy canes.
57. Create Pinecone Christmas Trees
Collect and paint green pinecones. Then decorate with pom poms, glitter, and chenille stems.
Grab a small paper plate and some fabric scraps to get going on this fun Christmas activity for preschoolers.
59. Design a Christmas Sweater
Cut out sweaters from construction paper. Provide your little ones with items to decorate the sweater. Pom poms, markers, glitter, buttons, and foam shapes all work great!
60. Experiment with Christmas Magic Milk
Place a thin layer of milk on the bottom of a pan. Drop green liquid food coloring on half of the pan. Drop red liquid food coloring on the other half.
Dip cotton swabs in dishwashing soap. Then, dip the cotton swabs into the milk and watch the magic happen.
61. Make Patterns with Christmas Bows or Pom Poms
Write out pattern cards on paper using green and red dots. Draw a circle with a marker in a few spots so that your preschooler will be able to complete the pattern.
Challenge her to create her patterns, too.
62. Christmas Light Counting
Cut out almond shapes from different colored paper to create lights. Write numbers on the lights. Have your preschooler hang up the lights in order on a string with clothes pins.
63. Build Name Snowmen
Cut out circles from white paper. Write one letter from your child's name on each white circle. Use the circle to build a snowman that says your little one's name. Add a top hat and a face, too!
Attach them if you want, or keep them unattached and allow your little one to do it repeatedly!
64. Make Cereal Candy Canes
Alternate different colored cereal onto chenille stems. Bend the end of the chenille stem to look like a candy cane.
65. Color Sort Christmas Trees
Cut out Christmas trees from construction paper. Add different colored trunks on the bottom of the trees. Set out pompoms and have your little one sort the pom poms to the Christmas tree with the same colored trunk.
For example, all blue pom poms would go on the tree with the blue trunk.
66. Magnetic Trees Challenge
Challenge your little one to make a tree using magnetic tiles. If you have jingle bells, set those out for your little one to add to the magnetic tree.
67. Go on a Candy Cane Hunt
Hide candy canes around and have your little one go around and gather them.
Attach garage sale stickers that have numbers or letters written on them to the candy canes. After collecting the candy canes, your little one can put the candy canes in order.
68. Bring Snow Indoors and Paint It
Gather snow into a tray. Let your little one mix water with food coloring to decorate the snow.
69. Make a Reindeer Headband
Cut out a brow strip of construction paper that fits around your little one's head. Cut out two handprints from brow paper (for the antlers). Attach to the side of the brown headband.
Draw on eyes and attach a red pompom to the front of the reindeer headband.
70. Decorate an Alphabet Christmas Tree
Write upper case letters all over a construction paper Christmas Tree. Write lowercase letters on garage sale stickers.
Have your little one decorate the tree by placing the stickers onto the same letter on the tree.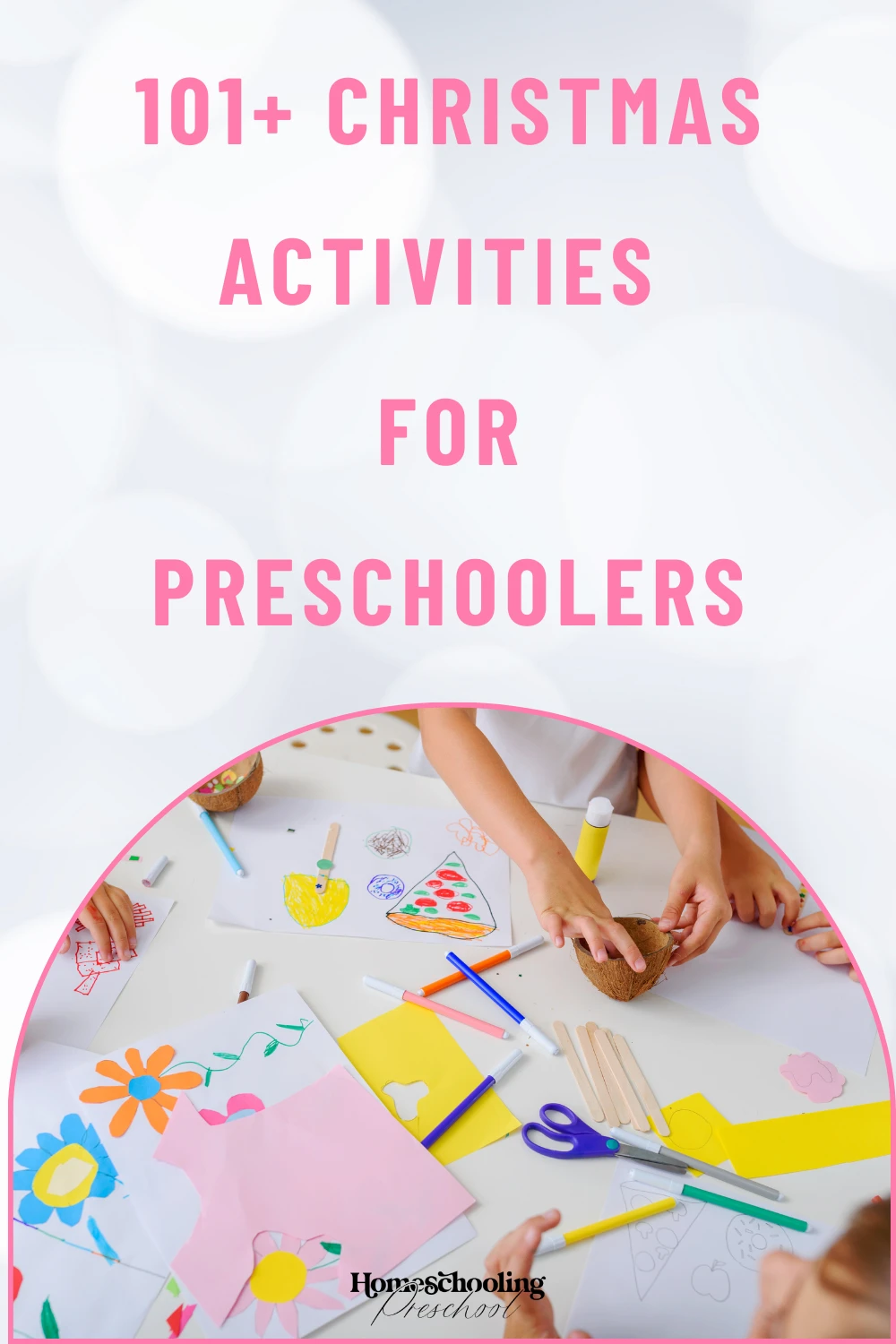 71. Cotton Swab Tree Decorating
Cut a Christmas tree out of green paper. Let your little one paint on Christmas lights and decorations using a cotton swab and paint.
Add a shimmering star to the top.
72. Paint Dotter Christmas Ornaments
Cut a large circle out of white cardstock. Dot the circle with paint (bingo) dotters. Add a silver rectangle to the top and a ribbon piece to make it an ornament.
73. Scoop the Ornaments Sensory Bin
Fill a sensory tub with water. Add food coloring if desired. Pour in ball ornaments and let your preschooler get the ornaments out using a pasta scoop or tongs.
74. Ornament Balancing Race
Put ball ornaments into a basket. Arm your preschooler with a pasta scoop or ladle. Have him transfer the ornaments from one basket to another across the room.
75. Painter's Tape Christmas Tree
Create a Christmas tree on your kitchen floor using painter's tape. Have your preschooler walk on the lines of the Christmas tree.
She can also decorate the tree by putting pom poms on the tree.
76. Paper Clip Candy Cane
Cut out a candy cane from construction paper. Challenge your little one to add stripes to the candy cane by putting paper clips around the perimeter of the paper candy cane.
77. Pine Tree Sweep
Gather up all of those pine needles that have dropped off your tree. Place them into a box with a Christmas tree drawn on the bottom. Using a paintbrush, your preschooler sweeps the pine needles inside the tree drawn on the box's bottom.
No flat-bottomed box? Not a problem! Draw a tree on paper and tape the paper to the bottom of a pan. It will work the same way.
78. Sticker Christmas Tree
Using a cut-out Christmas tree, draw lines swooping from one side to the other. Your little one will place small circular stickers on the swooping lines to help decorate the tree.
79. Jingle Bell Tower
Supply your preschooler with playdough and jingle bells. Challenge her to build a tower using only those two items.
80. Bow Sort
Grab a bag of bows and have your little one help sort the bows. You can then have her place the bows in lines based on their color to make a bar graph.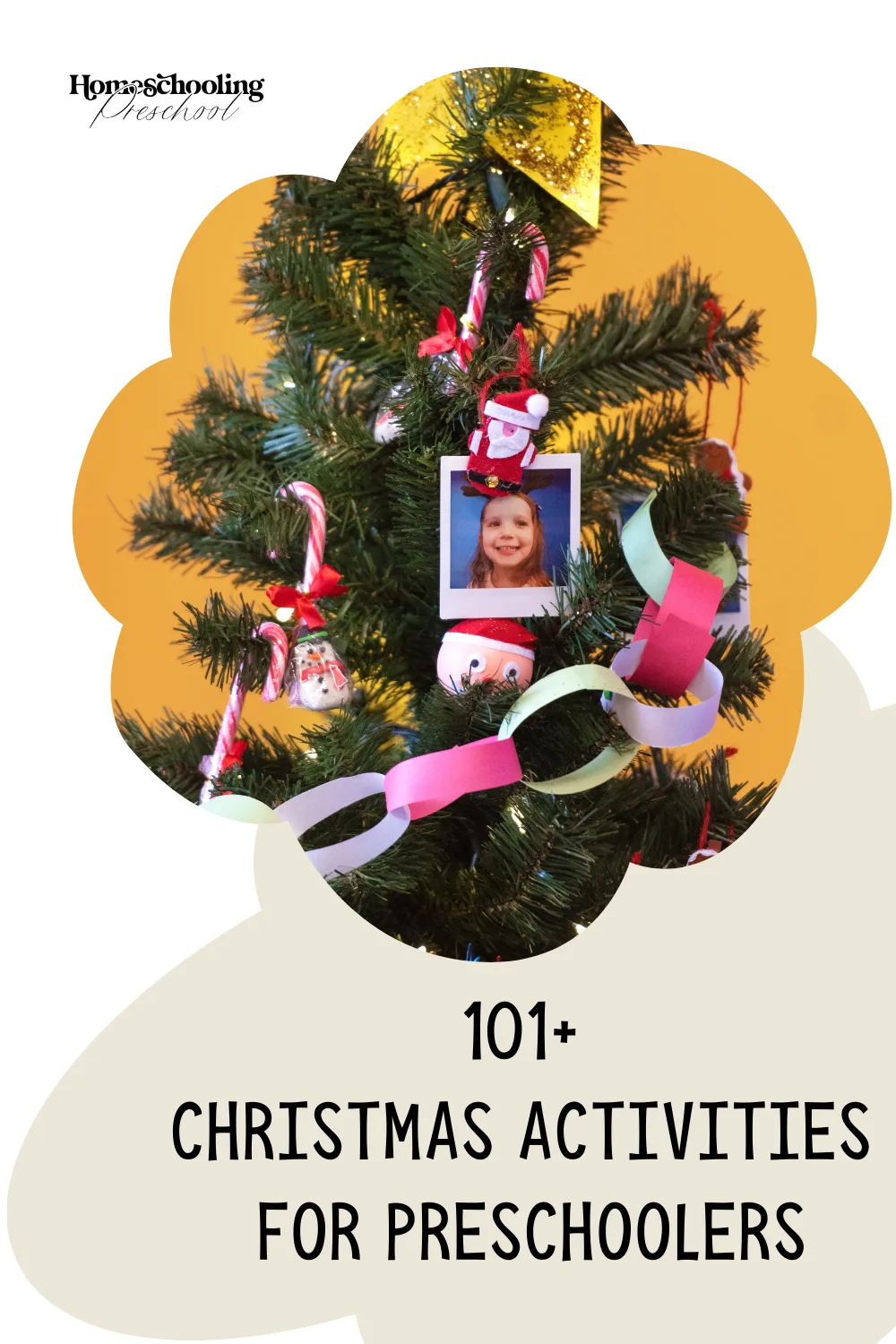 81. Ornament Sorting
Have your preschooler sort ball ornaments by color. Use muffin tins to help them from rolling all over.
82. Build a Box Snowman
Wrap up all the shipment boxes that have been arriving at your doorstep in white paper. Let your preschooler build a snowman by stacking the boxes on each other.
83. Christmas Cookies Around the World
Find out what unique treats kids from around the world leave out for Santa. Make some of these treats and taste-test them.
84. Make a No Sew Sock Snowman
Fill a white tube stock most of the way up with rice. Put a hair tie around where the rice is filled. Move down the sock about a third of the way down. Put another hair tie around the sock to create the head.
Tie on a fabric scrap as a scarf. Glue on buttons and a hat. Draw on a face.
85. Cup Stack Christmas Tree
Create a Christmas tree by stacking paper cups into a tower.
86. Make Santa's Beard
Make Santa's face using construction paper. Let your little ones add cotton balls to Santa's chin to make Santa's beard.
87. Hole Punch Trees
Cut out triangles from green construction paper. Glue on a brown paper trunk. Write a number on the trunk.
Give your little one a hole punch and have her punch holes in the tree based on the number written on the trunk.
88. Snowman Play Dough
Provide white play dough and items to decorate a snowman. Sticks, buttons, etc, are great additions to provide.
Here is an easy recipe to make homemade playdough.
89. Mystery Sensory Boxes
Fill different boxes with items your little one can use her senses to try to identify. An apple, a pine branch, an orange, a cinnamon stick, and a candy cane are all beautiful things to use for this pick for the Christmas activities for preschoolers.
90. Pine Tree Nature Craft
Cut a simple Christmas tree out of cardboard (a triangle top with a rectangle for the trunk). Wrap twine crisis crossed all over the tree. Tie it in the back.
Go on a nature walk and pick up some pine twigs to slide under the twine.
91. Do a Melting Snowman Experiment
Make three cups of hot cocoa. Place two large marshmallows in one cup, two tiny marshmallows in a second cup, and a large and a tiny marshmallows in a third cup.
See what marshmallows dissolve the quickest.
Be sure to make a prediction before starting the experiment.
92. Dissolving Candy Canes
Have your preschooler come up with different liquids to try to get the candy canes to dissolve. Water, water with salt, water with sugar, and vinegar are a few to start with.
This is one of the Christmas activities for preschool that can be done repeatedly using different liquids.
93. Race to Dissolve
Since you already have a box of candy canes, you can make this choice for fun preschool Christmas activities, too.
Grab a stopwatch (the one on your phone works fine) and a cup of cold water. Time how long it takes the candy cane to dissolve once it is placed in the cold water. Repeat with warm water and again with hot water.
94. Up Close Look
Bring some snow inside and look at it using a magnifying glass.
95. What is in Snow?
Collect some clean snow. Mark on the container how much snow is in it. Put it someplace warm so it melts. Look to see how clean the water is and how high the water is compared to the snow line.
96. Balancing Ornaments
Reuse toilet paper and paper towel tubes by balancing ball ornaments on them.
97. Make Wrapping Paper
Roll out butcher paper and have your preschooler decorate it. What a cheap, easy, and fun way to make a gift personalized and to have fun while doing it.
98. Number Trees
Cut out Christmas trees from construction paper. Place one dot (ornament) on the first tree, two on the second tree, etc. Write numbers on tree trunks, but do not attach them.
Have your little one match the tree trunk to the correct tree.
99. Play Dough Tree Decorating
Make or print out a plain Christmas tree. Place the paper inside of a sheet protector. Have your preschooler decorate the tree by rolling ornaments out of play dough and placing them on it.
100. Christmas Writing
Pour red and green sprinkles onto a small tray. Have your little one practice writing numbers and letters in the sprinkles.
101. Dance and Move with Jingle Bell Streamers
Thread beads and bells onto a chenille stem. Bend the chenille stem into a circle and twist the ends to attach them.
Add on red and green ribbon pieces.
Hold the jingle bell streamer in your hand and dance and move!
102. Shovel (fake) Snow
Grab a bag of batting (Poly-fil) or something similar. Have your little one use a shovel to move the 'snow' from one spot to another.
103. Hop on Santa's Bootprints
Cut out some boot prints from black paper. Set up a course where your little ones hop from one set of boot prints to the next.
Preschool Christmas Activities
With so many wonderful Christmas activities for preschoolers to choose from, the most challenging part will be deciding which one to try this year. Thankfully, you can do more than one a day!
You May Also Like…