Your kids' imaginations are sure to run wild after they make this binoculars craft. There is no telling what they might see while using them!
Why Make This Preschool Binoculars Craft
Many skills are used when creating this binoculars craft. Wrapping a paper around the pair of tubes to see how long to make the paper shows your preschooler how to solve this problem in the future– like when she is wrapping presents.
Allowing your preschooler to help figure out how long to make the string to wear the binoculars is a way that she can use reasoning skills to figure out what is a reasonable length.
Taping the tubes together, taping on the decorative paper, taping on the string, and coloring are all tasks that require fine motor skills. Fine motor skills are needed to help build up hand muscle strength. They are used for a wide range of things like tying shoes, eating, writing, and picking up tiny items.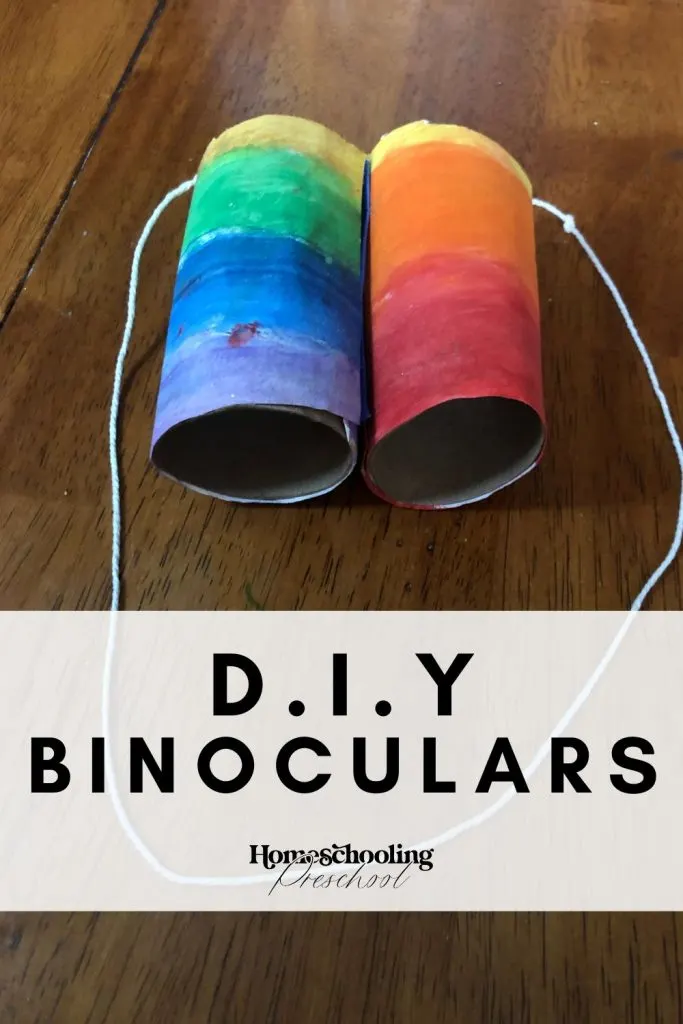 Binoculars open the door to many different imaginary items that can be seen. Build a fort in the living room and use your binoculars to see the bears that are at your campsite.
If you are looking for other things to help plan out a camping week, check out our Homeschooling Preschool Curriculum. Week 41 in the curriculum is all about camping! Making this preschool binoculars craft is part of the camping week activities!
Nature walks become more fun when you have new items with you. Use your binoculars from this binoculars craft to bird watch. You can also look at different trees and wild flowers. By making a replica of a real tool, your little one will know what binoculars are used for when she sees someone using them or uses working ones herself.
What You Will Need
Two toilet paper tubes (or a paper towel tube cut in half)
Yarn
Tape
Construction paper
Markers, crayons, or paint
How to Make Binoculars
1- If you are using a paper towel tube, cut it in half. If you are using two toilet paper tubes there is no cutting required.
2- Tape the tubes side by side to create a pair of binoculars.
3- Wrap the construction paper around the binoculars to see how much of the construction paper is needed. Cut the paper to fit the binoculars. Be sure to leave some paper to overlap so it is easier to tape.
4- Have your kids color or draw on the construction paper. This paper will be wrapped around the tubes to decorate their binoculars.
5- Tape the construction paper around the binoculars.
6- Cut yarn or string long enough so the binoculars can be worn around the neck.
7- Attach yarn or string to the binoculars with tape. If you don't want the tape to show, tape the string inside the tubes.
8- Take the binoculars outside and go for a nature walk or use with our other Homeschooling Preschool Camping activities!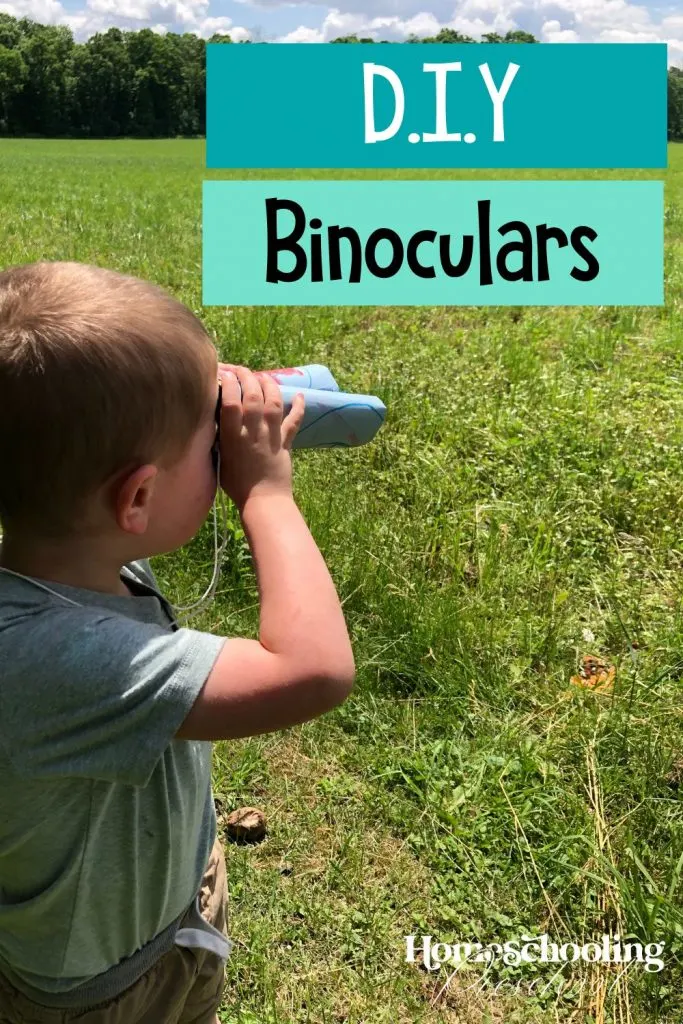 Binoculars Craft
These binoculars pair perfectly with a beautiful day outside while going on a nature walk. They also are great to use inside after building a fort to 'camp' in. The imaginary play ideas are endless!
YOU MAY ALSO LIKE…