Stuck inside during spring? Check out some of our best spring games for preschoolers to help get your little ones outside.
Spring Time with Preschoolers
Rain, rain, and more rain! Springtime can seem like all it ever does is rain. After a long winter, many little ones are eager to get outside as the temperatures start to reach a point where it is bearable to be outside for more than three minutes. Although there are many crafts, activities, and games you can play inside, there are many great spring games for preschoolers that you can play while being outside.
Playing outside, no matter the weather, is so good for their development. Getting dirty and experiencing different sensory experiences is important to help build pathways in preschoolers' brains. Don't let the wet weather stop you from bringing your preschoolers outside! Here are a few ideas of things to play outside while enjoying the spring weather. Some of these spring games for preschoolers can be done in the rain and some in the sun. There are a few that can be played in any weather!
Games to Play with Preschoolers
Puddle Stomping
Pull on the mud boots and raincoats! Let your little ones go out in the rain and enjoy jumping in the puddles. See who can make the biggest splash! The great thing about puddle stomping is that it can be done while it is still raining or right after it stops raining.
Make a Bridge
While out in the puddles, encourage your little ones to make a bridge that extends to the edges of the puddle. See their minds turn as they figure out how to make a bridge. You could even get toy animals or toy cars to drive across the bridge.
Play Sink or Float
Sure you may have played sink or float in the sensory bin or the bathtub but it is a whole new experience in a puddle. Pull in elements from nature to make new discoveries. Do leaves or twigs float?
Hopscotch
This is one of the classic spring games for preschoolers. After the pavement has dried out, take some chalk and draw a hopscotch board on the pavement. Not only is this a great large motor activity, but it can also be used to help number recognition.
Jump Rope
Help your little one work on his hand-eye coordination by learning how to jump rope.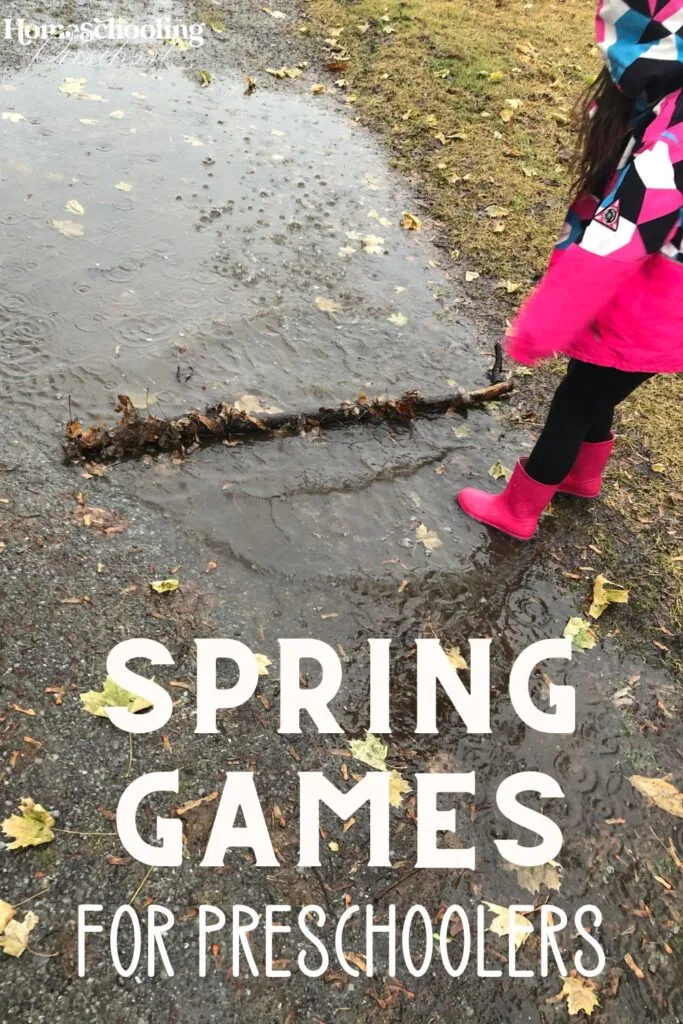 Go on a Scavenger Hunt
Find (or come up with) a list of items for your preschoolers to find. A blooming flower, rain drops on a leaf, and a cloud in the sky are all great items to add. This is a great way to bring up different signs of spring!
Roll Around in the Grass
Hopefully, you can find some dry grass before laying down. Encourage your little ones to roll around. You could find a hill or have a starting and stopping point for your little ones to roll to. Rolling requires many different muscles and is a great way for your little one to have fun while strengthening her body control. This is one of the spring games for preschoolers that is sure to have your little ones giggling.
Spring Games for Preschoolers
Gather up your little ones and head outside to the wonders of the outdoors. The sights, smells, and feeling of being outside are sure to add to the wonderful spring games for preschoolers that you choose to play.
YOU MAY ALSO LIKE…