Count on these preschool books about numbers to be a hit. They are fun and engaging while helping to teach your little ones to count.
Teaching Preschoolers About Numbers
Teaching little ones the order of numbers is the beginning of their math journey. By making math fun and engaging, little ones won't realize they are learning.
A solid knowledge of numbers and counting will help preschoolers be ready for not only future math concepts but also for life.
Learning should be anything but boring. By using preschool books about numbers and counting books, you get quality time with your little ones while helping them learn how to count engagingly.
This article may contain affiliate links to products that may help you when homeschooling preschool.
The amazing thing about these books about numbers is that they show the number and have items to count. This works on number recognition and 1 to 1 correspondence (touching each item as it is counted).
Below are some of the best counting books for kids, but you can turn nearly any book into a counting book by counting the items on the page (how many flowers, cats, dogs, fish, pancakes, etc.)
The Best Preschool Books about Numbers and Counting
Your little ones will love counting while learning interesting facts about our amazing world in this counting book for kids.
Bring iconic artwork from VanGogh, Monet, and many others with this preschool books about numbers pick. Counting, colors, and shapes can all be discussed while reading with your little one.
LouAnn the bear prepares a dozen fresh doughnuts for her long winter nap. Soon the whole town comes to her house and eats her donuts one by one.
How many will she have left for herself? Count the doughnuts on each page to see.
Numbers by John J. Reiss
The simple, uncluttered pages in this counting book help preschoolers focus on counting the items and the large number on each page, making this book perfect for even the smallest learner.
A different I Spy task is given on each page of this counting book for kids. In true I Spy fashion, there is a key for what tractor to find. Little ones count how many of that tractors are on the page.
The answer is given on the following page to reinforce number recognition.
Ten silly Dashhunds gather on a recliner one by one. Not only will your little ones get to practice counting up to ten, but when each dog leaves, they will practice counting backward to zero.
Practice counting to ten on each page in this book. By the end of the book, preschoolers will have found 100 bugs!
Counting from one to ten is a blast with this farm-themed book for our preschool books about numbers list.
Batter's up! Practice counting with this baseball-themed counting book for kids.
10 Cats by Emily Gravett
Ten little kittens cause mischief while their mama gets some much-needed sleep. Both colors and counting are practiced in this addition to the preschool books about numbers list.
Come along as Marien heads outside and takes pictures of what she finds. One bunny, two puppies, and three birds are only the beginning.
Take a trip to the Lone Star State with ten little monsters. Count and learn about Texas in this silly monster book.
Ten caterpillars head out on a sunny day for a stroll around the meadow. As each page passes, one caterpillar is missing.
Practice counting the caterpillars on each page and then see the sweet surprise at the end of this preschool book about numbers.
See and count the community helpers in this fun board book. This is another one of the preschool books about numbers with a surprise at the end.
This is one of the few counting books for kids, including numbers up to 20. There are bonus workbook activities included in this book, too.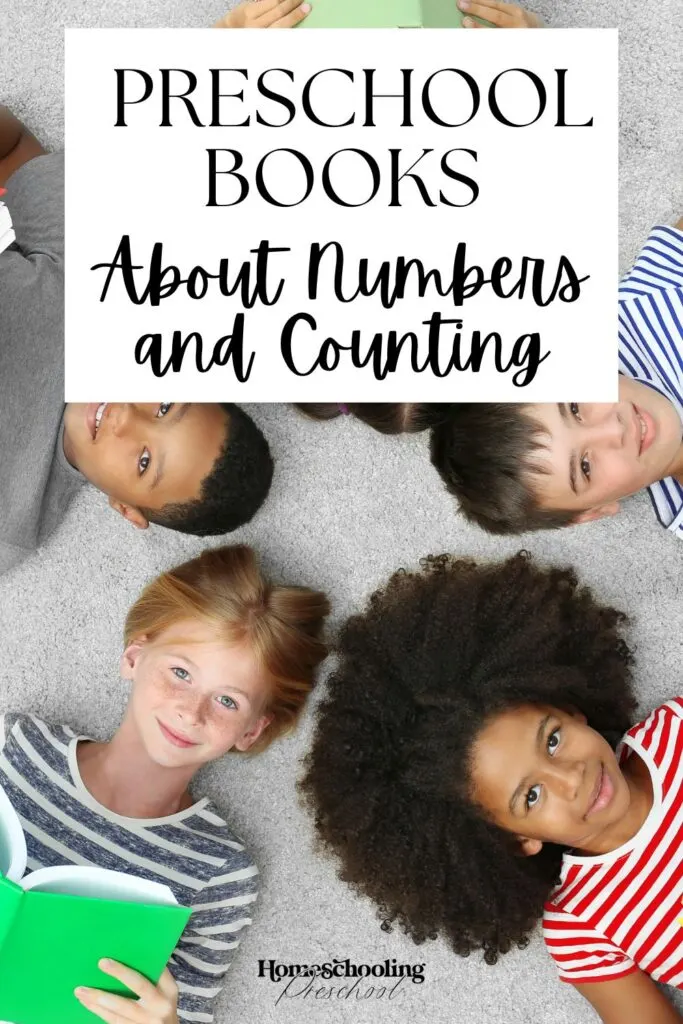 Counting Books for Kids
Practice one-to-one correspondence and counting with your little ones with these amazing preschool books about numbers. Don't be surprised if your little ones also start counting the blueberries on their plates.
You May Also Like…