Preschool August themes will help make choosing books, crafts, and activities easier. Take a look at our themes and start to plan.
Why Use Preschool Themes?
Make your planning a bit easier by choosing themes to guide your activities.
Book choices, crafts, activities, and sensory bins can all be tailored to fit the preschool August themes.
Who wouldn't want to make planning (and implementing) lessons easier? Take a look below and see if any inspire you to try them.
Pull some books, look up activities, and see what you already have on hand to make your preschool August themes come to life.
This article may contain affiliate links to products that may help you when homeschooling preschool.
Preschool August Themes
Five Senses
Help your preschoolers learn more about their bodies with a five senses theme.
You can do many different activities to make this theme fun and interactive.
If you are looking for ideas for activities to do, check out this post all about five senses activities.
Ocean Animals
Learn about the vast habitat that is the ocean. There are many creatures to choose from.
Fish and octopi are only the beginning!
Ocean-themed snacks, sensory bin activities, and ocean animal books are plentiful.
Water Fun
Take the water play from the ocean animals theme further by having one of the preschool August themes be all about water.
Allow preschoolers to play in the water, see what sinks and floats, and try to move the water from one bin to another.
Talk about water safety and why safety rules must be followed around water.
Picnics
Many different things can be covered with broad preschool August themes like picnics.
Picking a spot to have a picnic can bring up topics like flat land vs. hilly land and muddy spots vs. dry spots.
Talk about the weather and if a rainy day would be a good day to have an outdoor picnic.
Bring in learning about various types of foods when deciding what to pack on your picnic.
Counting how many people are going to the picnic and packing enough food for each person is a great way to practice 1:1 correspondence.
Different bugs or insects will inevitably make their way to your picnic. Talk about ants and other bugs that may join you.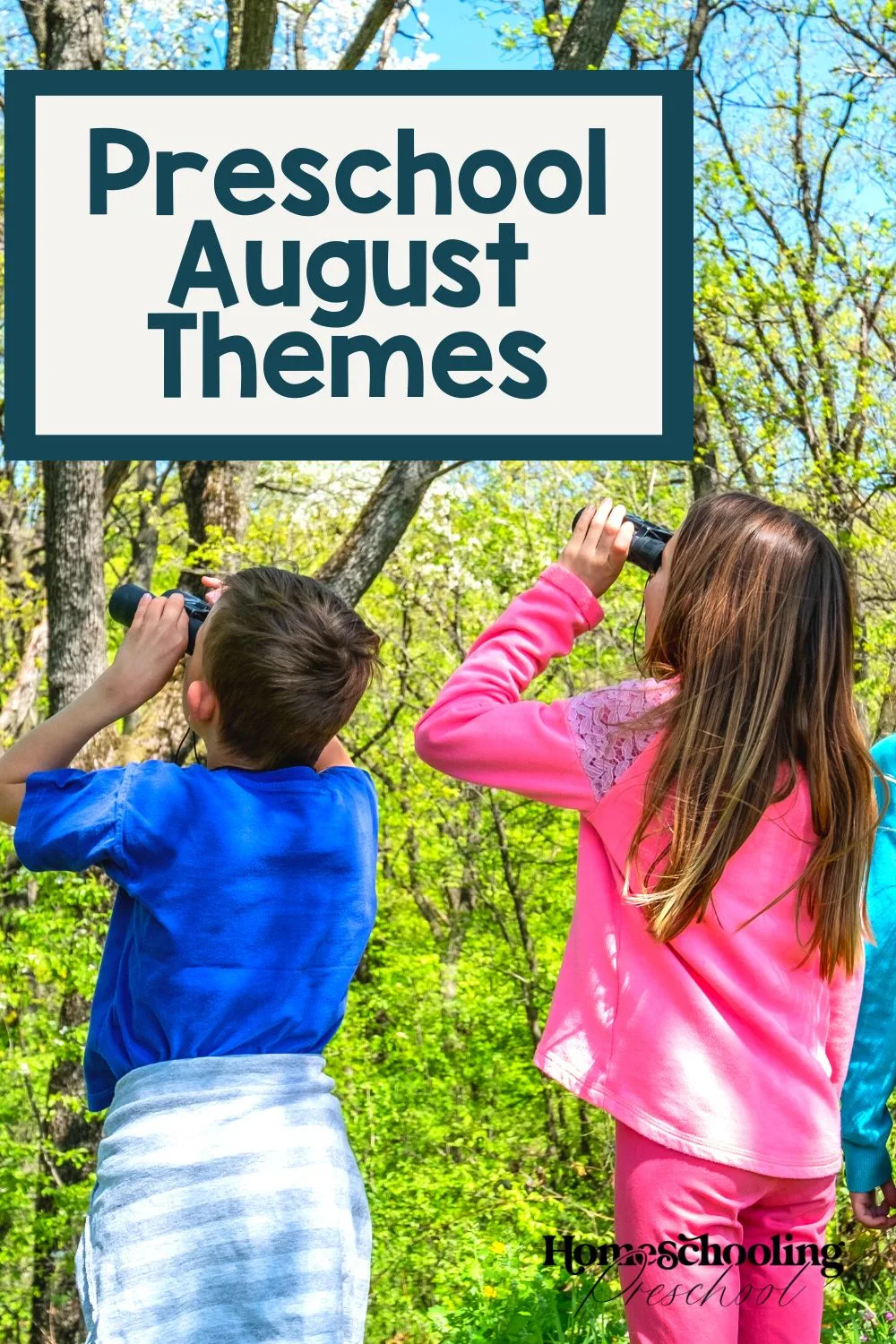 Bird Watching
With the weather getting cooler (hopefully), watching for birds is more enjoyable.
Colors, quantities, names, sizes, and so much more can be talked about when bird watching.
You may want to look up birds that are local to you and print out some of their pictures to help little ones identify birds.
Make it extra fun by using toilet paper tube binoculars.
Colors
Teaching about colors at the beginning of the year helps to set the year up for success.
Everything around your preschoolers is colored. Take advantage of playing "I Spy" using colors.
Naturally, color mixing is a must when teaching about colors. Do it without the mess with this paint-in-a-bag trick! Or try making a beach ball color craft.
Take it a step further by having your little ones help to make a rainbow snack with different fruits and vegetables. They get exposure to different foods while creating a work of art.
If you want ideas for books about colors, look no further than this post.
August Preschool Themes
Enjoy the weather getting a bit cooler with these preschool August themes. These themes will allow you to get outside with your little ones.
What better way to learn about nature or water than by experiencing it?
YOU MAY ALSO LIKE…