This mess-free painting activity is sure to spark your little one's interest. The fun and learning that comes with painting, without the mess!
Color Mixing with Preschoolers
Mess is usually what people think of when they think of painting, especially with preschoolers. No need to fret!
This mess-free painting activity provides an opportunity for your preschooler to learn about color mixing without getting paint all over. No, you aren't dreaming!
Preschool painting is a sensory-rich activity. Although this mess-free painting activity doesn't require your preschooler to get dirty, it is still a great activity to help build connections in your preschooler's brain like all good sensory activities do.
Have your preschooler pick up and squish the bag (after you have the air out of it and it is sealed). Allow your preschooler to put the bag on the table and move around the paint.
Have him draw different shapes, letters, numbers, lines, etc., on top of the bag with his finger.
Knowing and identifying colors is an important part of your preschooler's development.
Colors are used to represent different things in everyday life. We know that red generally means stop or danger. Yellow means caution. Green means go.
When your preschooler can see and identify these colors, it helps him to know and assess his surroundings and to keep his body safe. Try pointing out these colors on road signs while you are driving.
Color mixing activities allow preschoolers to make predictions about what they believe will happen. Once they have their prediction, they can mix the colors to see if they are correct.
Doing this cause-and-effect activity multiple times will help your kids to see that red and yellow will always make orange, even if the orange isn't always exactly the same shade.
This may lead to a great conversation about the reasoning why the shades aren't exactly the same. If you are looking for more activities to do with colors, check out Week 36 in our Homeschooling Preschool Curriculum.
Items Needed
red, yellow, and blue paint
gallon zip lock bag
white paper (optional)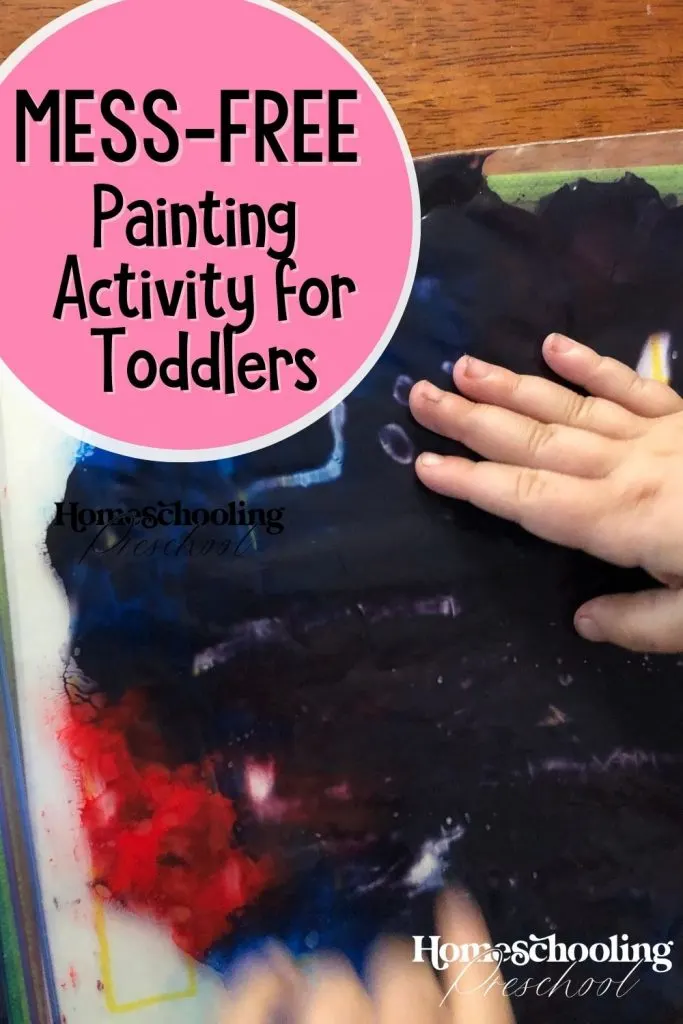 How to Mess Free Paint with Preschoolers
Choose two primary colors and place one quarter-size dollop of each color inside the ziplock bag. Place the dollops close together to help the color mix together easier.
Get the air out of the bag and zip it. Check multiple times to make sure the bag is zipped– or it might not be mess-free painting!
Let your preschooler mix the colors together to create a secondary color and to 'paint' the inside of the bag.
Have your preschooler practice writing letters, numbers, shapes, etc. By placing the white sheet of paper under the bag, it makes it easier to see what your preschooler is writing.
Have your preschooler make predictions about what will happen if you try it again with a different amount of each color of paint. More red and less yellow will make a different shade of orange than if you use equal parts of red and yellow.
Preschool Mess-Free Painting
Painting with preschoolers can seem intimidating. Hopefully, you feel more confident now that you have this mess-free painting activity to try.
YOU MAY ALSO LIKE…