Discover farm life with these books about farms for preschoolers.
Fascinate toddlers with farm life by sharing books about farms with little learners. From raising animals to producing crops, life on a farm is like no other.
Farm books for children can teach young students invaluable life lessons while having fun at the same time. They will be introduced to the concepts of hard work, dedication, perseverance, and patience.
Farm books for preschoolers will both educate and entertain even the smallest of readers. With catchy rhymes and captivating illustrations, preschool books about farms are always great to share.
Read farm books for fun, during an agriculture unit, or to supplement a lesson on plants and animals.
Introduce farms to preschoolers with one or some of these incredible farm books for toddlers.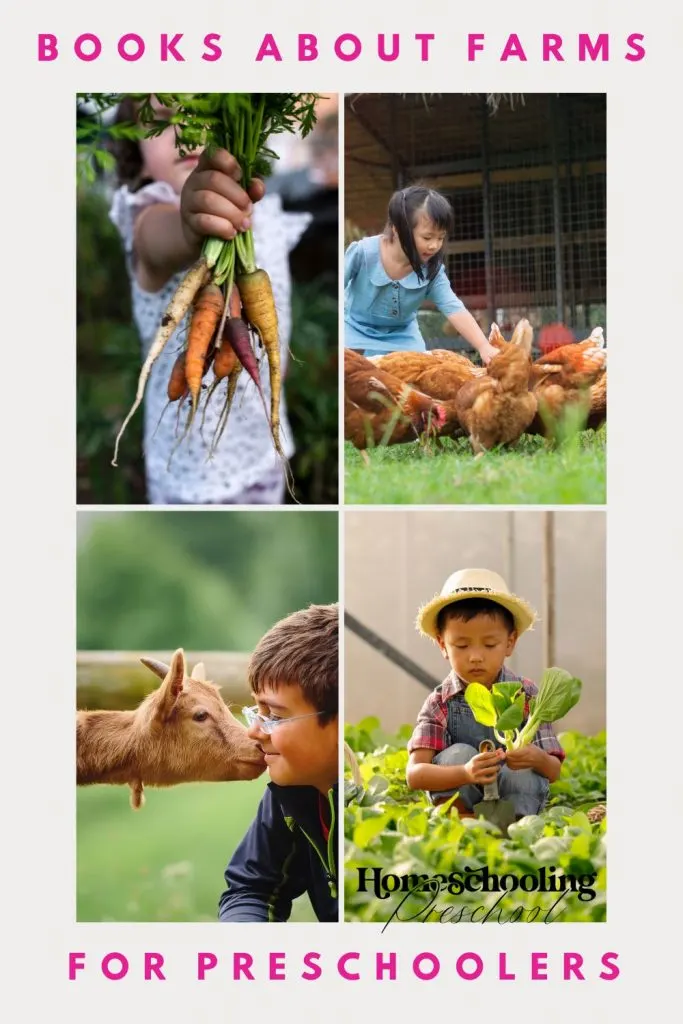 Farm Books for Toddlers
See life on a farm through the eyes of Duck, Cow, and Pig. This book is sure to be a new favorite among preschoolers.
Collect eggs and work on the farm with this interactive book made for toddlers. Little ones will enjoy being a part of this imaginative story.
Take a visit to a farm in 4D. Full of descriptions about farm people, animals, and more, this read is both educational and exciting.
Spend a day on the farm with Betty and Bobby. Each page is full of simple details and nice pictures that will delight young readers.
Laugh out loud with this hilarious farm book. Captivate children from beginning to end with witty rhymes about animal sounds and more.
Hang out with Maisy as she works on the farm. This simple story is short and sweet, and is perfect for young learners.
Learn about farm equipment with this fun spin on the Old MacDonald nursery rhyme. Little ones will love reading and singing along with this book.
Introduce farms and farmers with this unique read. Packed with fun facts about how food gets from the farm to the table, this book is a must-have for a preschool library.
Entertain young students with this incredible farming board book. The lift-the-flap interactions on each page will show toddlers the process of farming from seed to harvest.
Prepare a farm for winter with this wonderful book about farms. Beautiful artwork and expressive text make this a great read for all ages.
Preschool Books About Farms
This collection of preschool books about farms will intrigue and delight little learners. From picture books to board books, these farm stories are a perfect addition to every homeschool library.
What farm book will you share with your preschoolers?
You May Also Like…