Pull out the stamps and stamp pad for a fun twist on a name activity. Letter identification and name practice are part of this activity.
Why do the Name Stamping Activity
Bring fun to your homeschool by using stamps! Kids love using and playing with stamps. Because of this, stamps are a great way to get reluctant learners to participate in activities. Sometimes kids get bored learning how to write their names because it is repetitive by nature. Stamps help bring joy to learning the letters in your little one's name!
Depending on the challenge your little one needs you can change this activity. Have all of the alphabet stamps out and have your preschooler pick out the letters of her name. If she isn't quite to that level yet, you can have out the letters of her name with one or two extra letters. Or you can have only the letters of her name out for her. You choose what works best for your little one.
Letter identification and name practice are wrapped into one activity. Your preschooler may know the letters of her name when you verbally ask her, but does she know what the letters look like? This name activity helps you to see what she knows and what she needs help on. You can also use this activity as part of a beginning of the year assessment if you desire. You say a letter and she chooses the stamp that matches the letter. Have her stamp down the letter you said to add some joy to the assessment process.
Your preschooler can do this name activity again and again! Once you teach her how to do it, she will be able to do different color patterns with the letters of her name and the ink pads. Stamps are a great quiet activity for when you need some much-needed peace and quiet. But it doesn't just stop with her name, she can stamp out words or match up letters to the letters you have written on a sheet, too!
This activity is part of our Homeschooling Preschool Curriculum Week 6: Fall. If you are looking for other activities and books that follow themes, check out our Homeschooling Preschool Curriculum.
Items Needed for Name Activity
letter stamps
ink pad
paper
How to do Name Stamping Activity
1 – Have your little one choose out the stamps that match the letters in her name. You decide how challenging you want to make this by adding more or less 'extra' letters to the pile.
2 – Your little one should put the letters in order of how they appear in her name.
*You may find that it is easier to write your little one's name on the paper so she can copy the letter order with her stamps. This is especially important if your little one has letters that repeat in her name.*
3 – Have her pick up the stamp that is the first letter of her name. Get some ink on the stamp and stamp it somewhere on the paper (and leave room so the rest of her name can also be stamped).
4 – When placing the stamp down on the table, have her put it over to the side so she doesn't get it confused with the stamps she hasn't used yet.
5 – Repeat with the rest of the letters of her name.
6- Continue stamping the name all over the paper.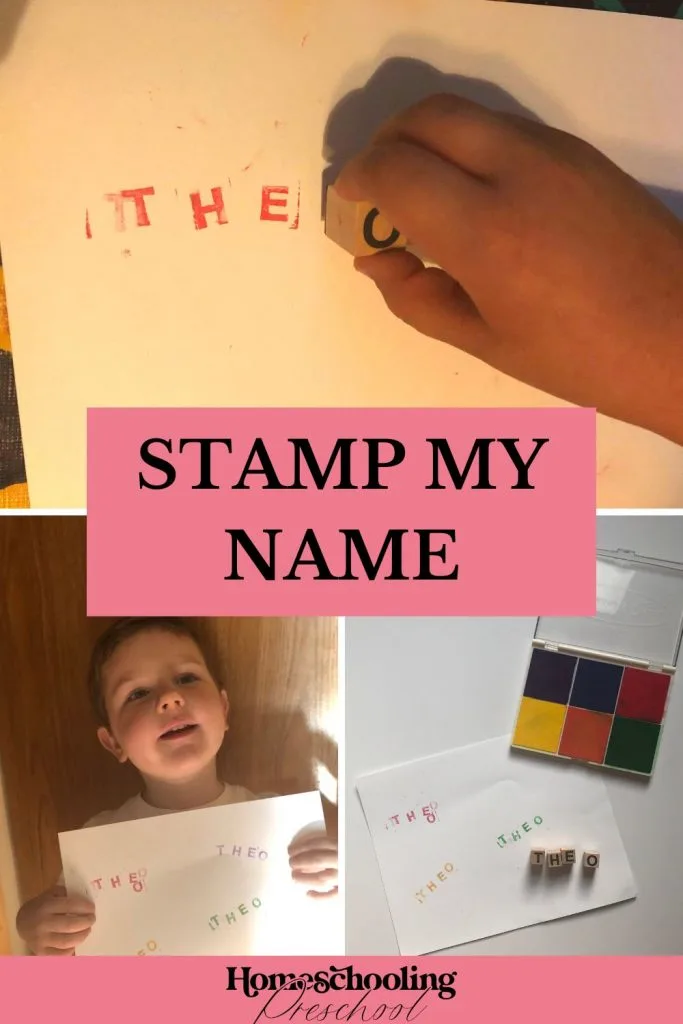 Name Activity
Knowing the order that the letters in your little one's name appear as well as what the letters look like is an important part of preschool. Your little one will love practicing her name by using stamps and this name activity.
YOU MAY ALSO LIKE…