As more parents turn to homeschooling for their children, online math programs for elementary students have become an essential tool.
These programs can provide a structured and interactive approach to learning math concepts.
However, using online math programs can be challenging without the right tools and resources.
In this article, we'll explore some of the homeschool kindergarten must-haves when using online math programs for elementary students.
I was compensated for my time to write this article. All opinions are my own. This article contains affiliate links.
Kindergarten Online Math Must-Haves
Computer or Tablet
The first must-have is a device to access the online math program.
A computer or tablet with a reliable internet connection is essential for online learning.
Consider investing in a dedicated device for your child's education, so they can focus on learning without distractions from personal use.
You might also want to consider getting one that is user-friendly and can have parental controls easily added to it.
Headphones
Headphones are helpful in minimizing distractions and allowing your child to focus on the lesson.
Even if your child is an only child or there are no other kids around while you're homeschooling, a pair of headphones can really help them concentrate!
Headphones can also help ensure that your child can hear audio instructions or explanations clearly.
Over-the-ear headphones are great for little ears.
A Printer
Some online math programs include worksheets or other printable materials.
Having a printer at home can be incredibly helpful in these situations.
Your child can complete the worksheet offline and then enter their answers online.
Math Manipulatives
Manipulatives are physical objects used to teach math concepts.
For example, blocks can be used for counting and sorting, and shape cutouts can help teach geometry.
Having manipulatives at home can help your child understand mathematical concepts in a tangible way.
Writing Tools
While many online math programs include digital tools for drawing or writing, sometimes it's easier for young children to use traditional writing tools like pencils and paper.
Having a supply of writing tools available can help your child complete assignments more easily.
Parental Involvement
Perhaps the most important must-have for homeschooling kindergarteners using online math programs is parental involvement.
Young children may need assistance navigating the online program, completing assignments, or understanding concepts.
Parents should be prepared to provide guidance and support as needed.
A Solid Online Math Curriculum
In addition to the supplies above, without solid online math programs for elementary, there is a good chance your child won't get the math instruction they need.
Our solution? The CTCMath Homeschool Membership.
CTCMath is a comprehensive online math curriculum designed for students of all ages, including those in kindergarten and lower elementary.
Using CTCMath for online math lessons can provide numerous benefits for both parents and children.
Here are some of the benefits of using CTCMath for kindergarten online math lessons.
Interactive Learning
CTCMath uses interactive multimedia tools to teach math concepts to young learners.
The program incorporates engaging lessons to help children understand mathematical concepts more easily.
And, as we all know, when kids are engaged, they learn more and they retain more!
Self-Paced Learning
With CTCMath, children can learn at their own pace. This means that they can take their time with difficult concepts while progressing quickly through concepts they already understand.
CTCMath's adaptive learning model is so helpful for building a love of math in little learners! It's one of my favorite aspects of the curriculum!
Comprehensive Curriculum
CTCMath covers all aspects of the math curriculum that is appropriate for the student's age and grade level.
This means that children can get a complete education in mathematics from a single source.
If you have multiple children, it makes easy to have everyone using the same math curriculum all at their own levels!
Not only is this helpful for kiddos like my own who struggle with switching programs each year, but it also makes it easier for me because the kids know how the program works, what to expect, and can work more independently. I love that!
High-Quality Instruction
CTCMath provides high-quality instruction in a clear and concise manner.
The video tutorials are easy to understand and feature step-by-step instructions that make learning math fun and engaging.
Personally, as a homeschool mom, I love that the math isn't gamified to such a degree that all kids are really getting is singing bears or colorful, flashing buttons.
I want my kids to learn math skills not focus on dancing turtles.
Flexible Learning
CTCMath can be accessed anywhere there's a strong internet connection, and at anytime, making it a great option for homeschooling families or families who are on the go.
Parents can also track their child's progress and adjust the curriculum to meet their individual needs.
The preschool years are great for spontaneous trips and excursions, and with a strong internet connection, math instruction via CTCMath can come along too!
Affordable Pricing
CTCMath is affordable, making it an excellent value for families looking for a comprehensive math curriculum for their kindergarten students.
You can even try a CTCMath for FREE using THIS FREE TRIAL OFFER!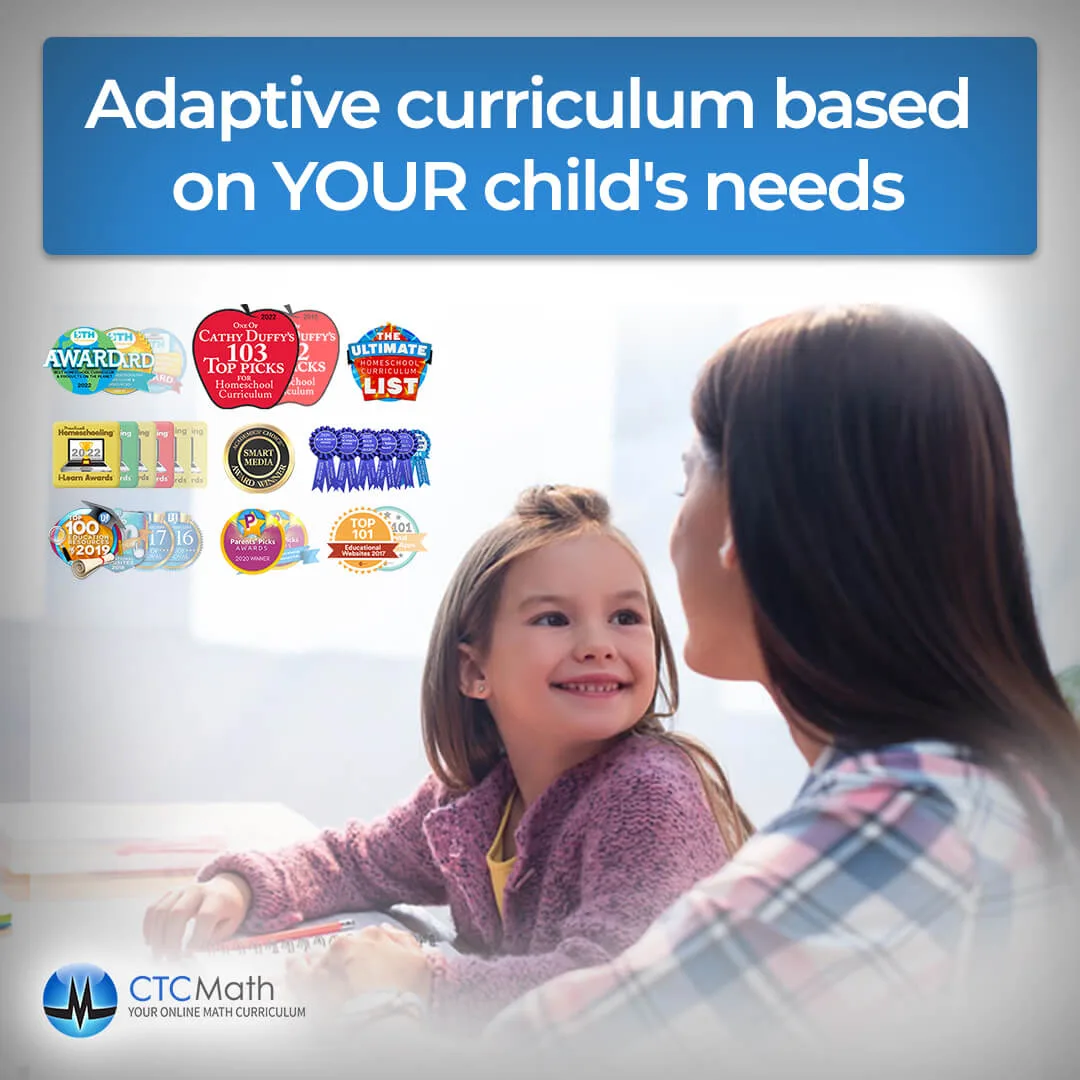 CTCMath Supports Students and Families
Overall, CTCMath is an excellent option for parents looking for an online math curriculum for their kindergarten-aged children.
The program provides interactive, self-paced, and comprehensive instruction that makes learning math fun and engaging.
With CTCMath, parents can rest assured that their child is receiving a top-quality education in mathematics that will prepare them for success in later grades.
Online Math Programs for Elementary Students
Using online math programs can be a great option for homeschooling kindergarteners.
However, it's important to have the right tools and resources to ensure that your child is getting the most out of the program.
By ensuring that you have these homeschool kindergarten must-haves, you can help your child succeed in math and beyond.
YOU MAY ALSO LIKE…