We have rounded up the best educational gifts for preschoolers to help your gift-giving be a bit easier. Check out these fun finds!
What To Look for in Gifts for Preschoolers
When looking for gifts for preschoolers, you don't want another toy that will end up stuck at the bottom of the toy box.
Although not all gifts for preschoolers need to be educational, including a few is nice to keep your preschooler learning.
When picking a gift, think about its purpose.
Can your preschooler play with it again and again?
Is there only one specific way to play with the gift? If so, that's okay!
Remember that open-ended toys (with no one right way to play with them) will provide longer playing times and allow your little one to stretch her brain even more by allowing her to be creative.
This article may contain affiliate links to products that may help you when homeschooling preschool.
The Best Educational Gifts for Preschoolers
Spin the wheel and pick out the yummy ice cream flavor shown.
Then, stack it onto your ice cream cone.
Take your little one fishing with this fun game.
Each of you catches a fish and then watches how it unfolds when you lift it up.
Measure your catches to see who caught the biggest fish.
Work on logic with your little one with this educational gift.
Kids try to get a loader from one corner of the board to another by turning road pieces.
If your little one is a Pete the Cat fan, she'll love this button game!
Help Pete find his missing buttons by spinning the spinner and putting the buttons back on Pete's shirt.
These tube building blocks are unlike any other on the market.
Some are bent, and others are straight, making them perfect for building all sorts of fun things.
Create your flowers with this flower-building set. Littles can choose the colors, shapes, and sizes to create flowers.
This is perfect for encouraging creativity and building skills.
Encourage your little one to expand her vocabulary with these search-and-find cards.
The picture key at the bottom of each page allows this educational gift to be done independently.
Challenge your preschooler to be creative with this rainbow stacking set.
Open-ended toys mean there are endless uses for these wooden toys.
These magnetic tiles are another example of open-ended toys.
Even if your preschooler has a set of magnet tiles, more tiles can be added to her collection to allow her to build more significant creations.
Dominos aren't only limited to the game Dominos.
They can be used to build with or create a chain reaction when pushed.
This fun play cash register introduces the concept of picking out and purchasing items at the store.
The included cards challenge your preschooler to make different items from the seven shapes.
Your preschooler can also choose to make her creations out of the shapes.
Work on fine motor skills and building with these engaging suction cup toys.
Preschoolers can experiment to see how they stick together and make different things.
Geodes are ready to be hammered and chiseled open to reveal colorful gems.
Match up the gems with the same colored geode shell.
This is one of the gifts for preschoolers that can be done repeatedly.
Encourage hand-eye coordination, fine motor skills, building and creativity, spatial awareness, and problem-solving with Duplo Bricks!
Cast a line and catch an alphabet fish.
Find the matching letter on the board to put the fish in.
Challenge your little one to get the colored beads from the top of the maze to the color-coded section below.
There is a simple and complex path, so the maze can become more challenging the more your preschooler does it.
Awaken your little one's senses with these bright glow-in-the-dark pop tubes.
They can crinkle them to hear the noise and bend them around to make different things (like a necklace!).
Of course, the glow-in-the-dark aspect will surely make your little ones smile.
Build your little one's vocabulary with this fun choice of gifts for preschoolers.
Match the tile to an item on your board, and it's yours.
Get three in a row and call Zingo!
Perfect for writing or drawing, this LED tablet comes with a special pen and can be erased with a click of a button.
There is a lock function, so the tablet can't accidentally be erased.
Give the gift of science and experiments with this hands-on science kit.
It comes with different tools and science experiment cards, so you don't have to develop the experiments yourself.
Make life cycles a tangible concept for your little one with these cute figurines.
They can also be used for open-ended play!
Preschoolers can see many different things up close with this talking microscope.
It is the perfect introductory tool to teach about microscopes and how to use them without worrying about finding the right items to put on the slides.
The microscope even talks to your preschooler and provides facts (or quizzes them)!
Introduce coding to your preschooler with this interactive coding dog.
No computer or tablet is needed!
Geared towards younger children, this circuit kit allows the different items to be attached easily.
It is a great way to get your preschooler thinking and problem-solving!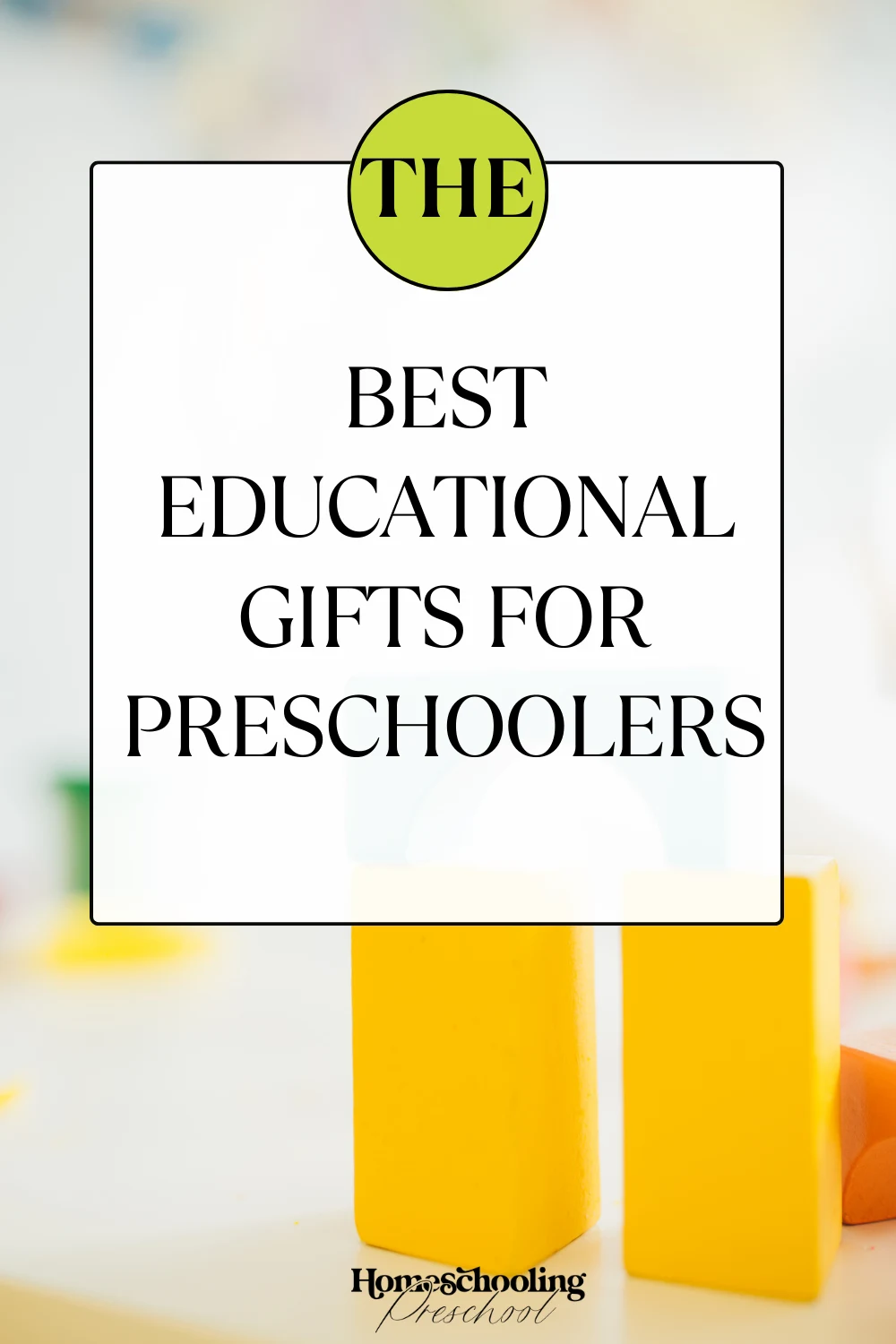 Top Preschool Gifts
Keep this gifts for preschoolers list handy when you want to buy a special present for your little one but don't know where to start.
From Christmas gifts to birthday gifts, this list is a great resource.
You May Also Like…