Preschool puzzles are a great way to get your preschooler's brain working and problem-solving. Check out the best preschool puzzles below!
Why are Puzzles Important in Preschool
Many skills are practiced when preschoolers (or anyone) do puzzles.
Problem-solving where pieces go and reasoning what pieces would fit in the space is the beginning of why puzzles are essential.
Fine motor skills are strengthened.
Littles practice visualizing if the pieces will work in the space.
Hand-eye coordination works when preschoolers put the pieces together.
Independence is fostered when preschoolers can grab and complete a puzzle.
They are great to have on hand for quiet time, a morning basket, or to have out for your preschooler to work on whenever he chooses.
This article may contain affiliate links to products that may help you when homeschooling preschool.
The Best Preschool Puzzles
This puzzle pack has large pieces and includes four puzzles and a wooden box to keep them in. There are different packs, making this customizable to fit your preschooler's interests.
Little ones use the pattern block to recreate images on the provided boards.
Two- and four-piece matching puzzles are part of this preschool puzzle pack.
Make letter identification and putting a puzzle together more fun using a fishing puzzle.
Not only do preschoolers get to match the wooden shape to the correct board, but they also get to figure out how to nest all the shapes together so they all fit.
No missing pieces with this preschool puzzles pick!
Magnetic balls are moved around the board using an attached wand to match the balls with the correct color of ice cream.
Not your typical puzzle, but problem-solving and reasoning are still being worked on when your little one dresses up different size bears.
These puzzles take the shape of a snake and an elephant.
They are also a great way to reinforce letter and number order.
Six puzzles in this preschool puzzle pack make it a great way to add puzzles to your homeschool and allow for puzzle rotation.
Double-sided puzzles like these are great because they grow with your kids.
One side has easier words that form the picture of the word so littles can see if they put the puzzle together correctly.
The opposite side has more challenging words.
Use the tangrams that come with the puzzle pack to make the different items on the puzzle cards.
They are compact and easy to travel with.
Practice rhyming words by pairing up words that rhyme.
Pictures are included to allow younger learners to play, too.
Challenge little learners to fit together oddly shaped animals and fruits.
Bonus points for this puzzle pack because the pieces can stand up, too!
Shapes are cut out and must be fitted back into the wooden board.
Perfect for kids new to puzzles.
Wooden cubes are printed on all sides, making up six different puzzles.
Only 16 pieces to keep track of, but six different puzzles; what a win!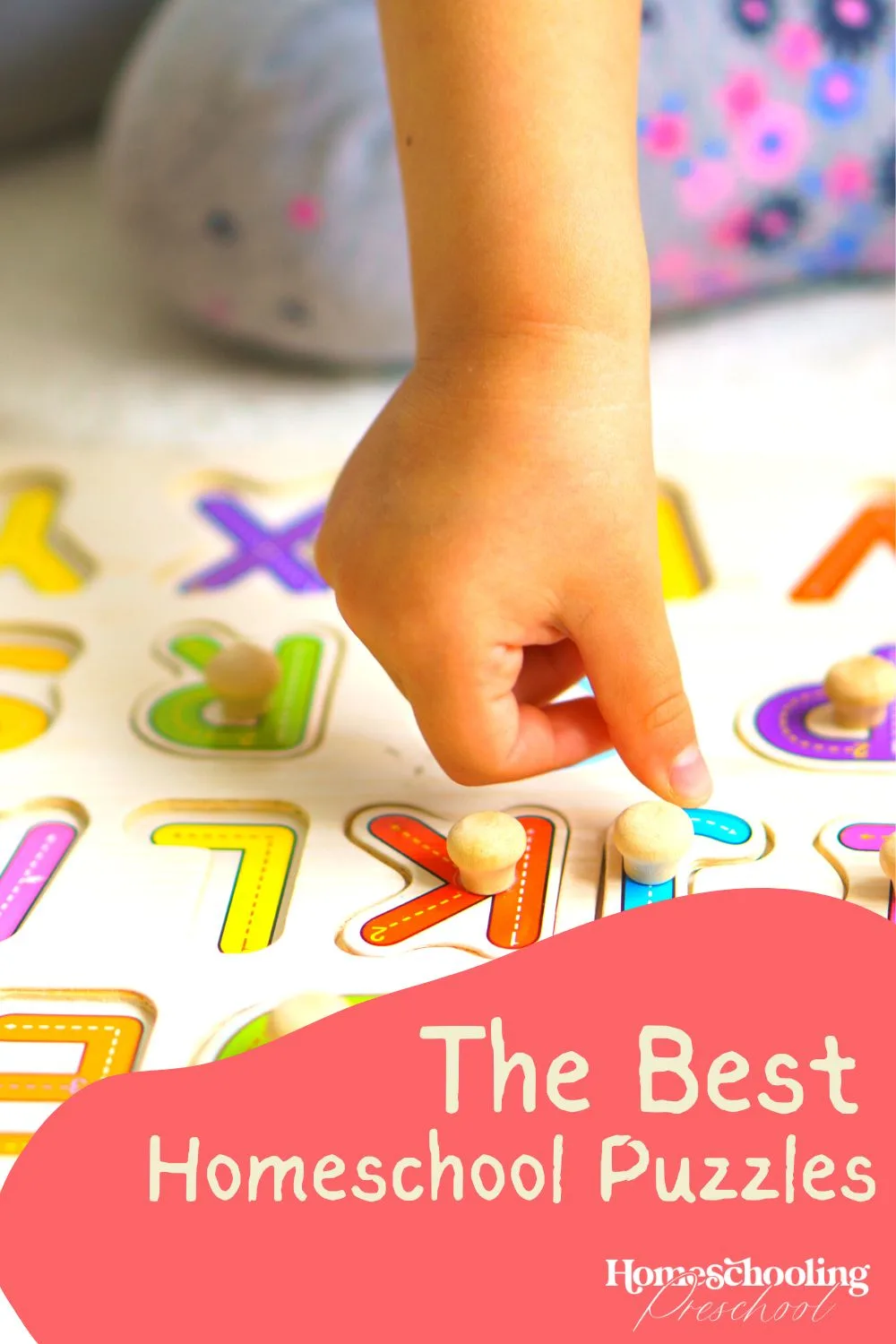 These frog brain teaser preschool puzzles are two games in one.
Make the pattern on the card on the frog's belly for the first game.
The second game gives a silhouette, and preschoolers need to use the pieces to fill in the silhouette.
Put the pieces together to make six different vehicles.
Another cube puzzle, but this one only has nine pieces making it more straightforward.
Fit the different shapes on the correct number of sticking-out pegs.
Some shapes have holes for four pegs, while others have holes for one peg.
Preschoolers can put five different systems of the body together with this skeleton puzzle.
The larger pieces interlock easier, and it also comes with a storage box!
Use the parts to build different 3 Dimensional animals.
Perfect for the fairy lover!
This puzzle will be a bit harder because it has 48 pieces.
Put together the 48-piece puzzle, then use the cards to play I Spy while looking at the puzzle.
What a fun twist on preschool puzzles!
Preschool Puzzles
Gather some preschool puzzles to keep your preschooler's brain sharp and encourage independence, problem-solving, and much more!
You May Also Like…