It may have eight legs, but this adorable spider craft is nothing to be scared of. Your little one will love making this spooky spider.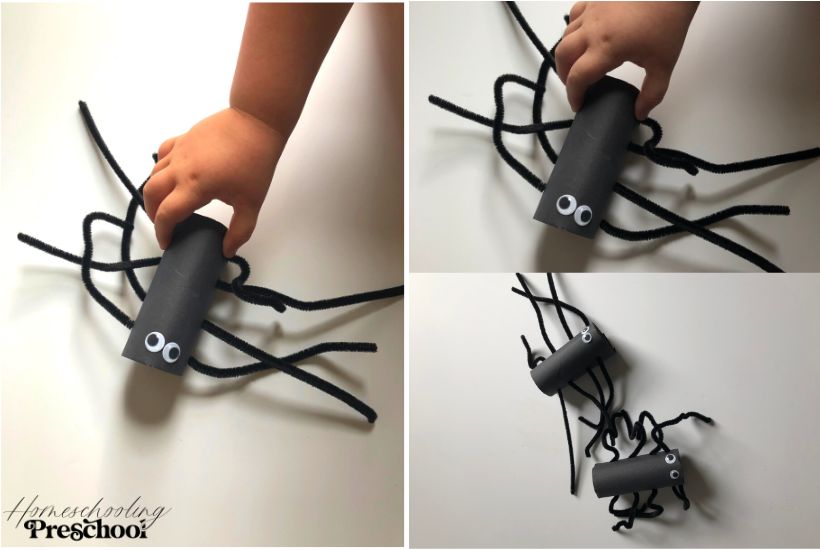 Why Make a Spider Craft
Halloween is known for all things creepy and spooky. Let your littles join in on the fun with this cute spider craft. It allows your littles to help decorate the house and reuses some of the items that would otherwise be thrown out.
Spiders can be scary to some kids. Talking about them and making a spider craft, it helps to show your little one that although spiders are unusual, it doesn't mean that he needs to be scared of them.
There are many legs to count in this craft. This repetition in counting will help sneak in some counting practice without your little one noticing. If desired, you can add more than two eyes, too. Some spiders have up to eight eyes! Talk about a lot of body parts!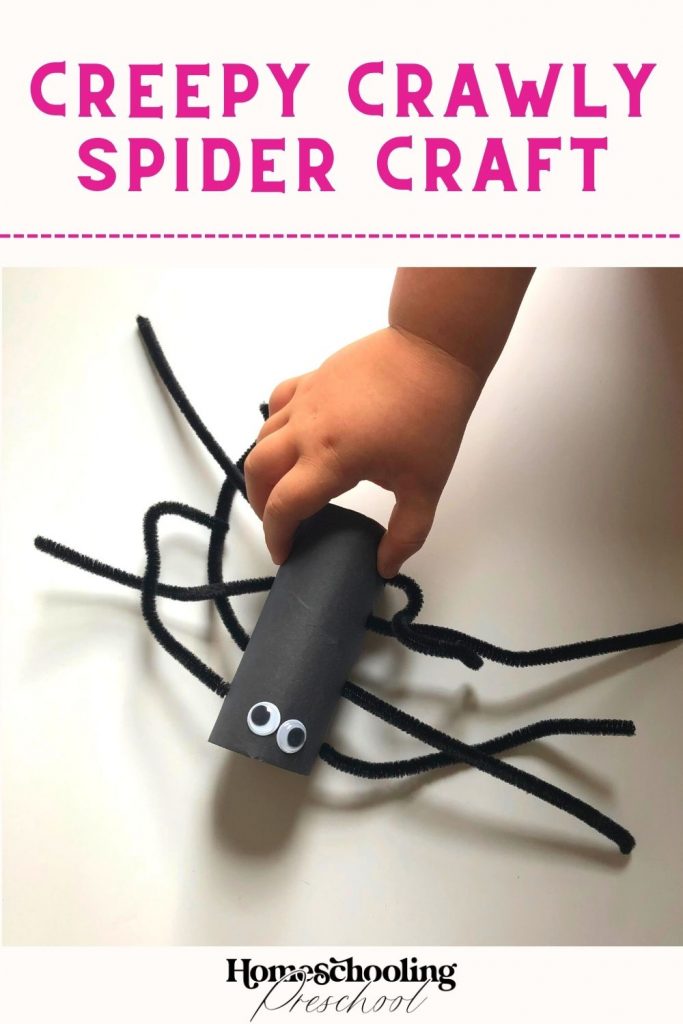 Threading a chenille stem through a hole may be something new for your little one. This is a great and fun way to practice hand-eye coordination. By premaking the hole, you are helping your little one to be successful in this spider craft. Hopefully, the premade holes will prevent a meltdown.
If you are looking for more crafts and activities that have to do with Halloween, check out our Homeschooling Preschool Curriculum. Week 8b is a bonus week that is all about Halloween.
Items Needed
toilet paper tube
black construction paper
black chenille stems (8 total or 4 cut in half)
googly eyes (2 to 8 eyes depending on what your little one chooses)
tape
glue
scissors
pen (or something to poke holes in the tube)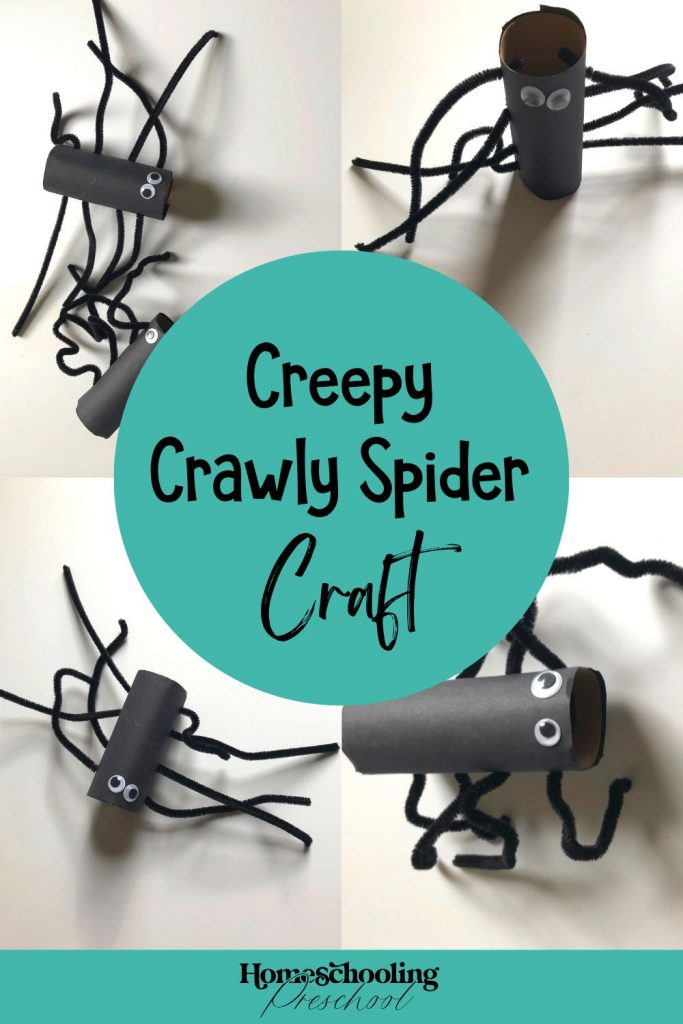 How to Make the Spider Craft
1 – Place your toilet paper tube on the edge of your black paper. Cut a strip of black paper a little bit wider than your tube. Be sure to cut the paper long enough to be able to wrap around and cover the whole tube.
2 – Line up the paper on the toilet paper tube. Tape the end of the paper to the toilet paper tube so it doesn't move as your preschooler rolls the paper on the tube.
3 – Have your little one roll the paper on the tube so the tube is completely covered.
4 – Glue or tape the end of the paper so it doesn't come unrolled.
5 – Using a pen (or something else circular and sharp) poke 4 holes on each side of the tube. **This is an adult job**
6 – Have your little one poke the chenille stems through each hole to make the legs. You can cut the chenille stems in half before poking them through the holes if you want shorter legs.
7 – Bend the chenille stems to make them look like legs if desired.
8 – Use glue to attach the eyes to the top of the spider.
9 – Put your spider on a spider web decoration or use it to play with.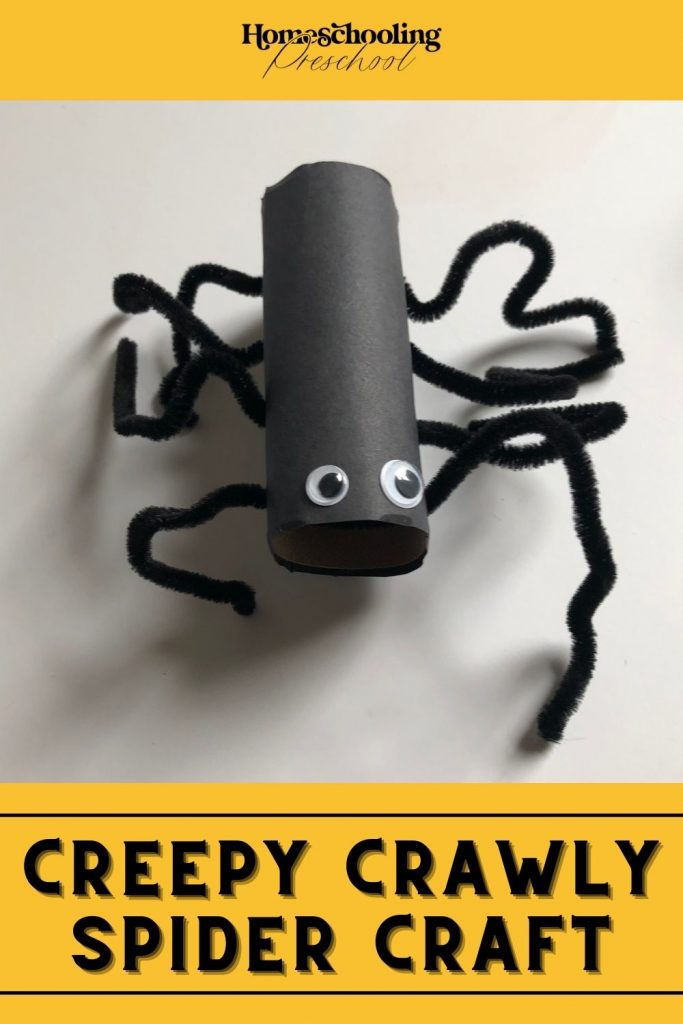 Spider Craft
This spider craft is a perfect addition to a Halloween or fall party. They are relatively easy to make and they turn out to be cute decorations.
YOU MAY ALSO LIKE…