Help your little ones to learn about Africa with these fun preschool activities. Geography and music activities are just the beginning.
Why Teach About Different Cultures
Having your little one understand that there are different cultures in this big world is important. When he sees someone who is wearing or doing something different than he does it won't come as quite a shock if he has been taught about cultural differences.
Providing preschoolers with new cultures in an age-appropriate way, like through African preschool activities, can help nurture their curiosity while being in a safe place.
Teaching respectful ways to appreciate different cultures is easier to do when you have hands-on items to show your little one.
These African preschool activities are the perfect starting point for you to use in your homeschool to introduce different cultures around the world.
Geography Activities
Play Dough Map
Print out and laminate (or stick in a gallon baggie) a map of the continent of Africa. Offer play dough to have your little one work on creating a play dough Africa using the map as an outline.
Fill in the Map
Print and cut out a map of Africa. Have your little one use pictures of different things found or grown in Africa to cover the cutout map. You can hang this map up to remind your little one of the Africa preschool activities he did.
Culture Activities
African Collar Necklace
Talk with your little one about the beautiful necklaces that come from Africa and that the necklaces hold meaning to the different tribes. Show your preschooler some images and get to work making your own necklace. Start by cutting out the middle of a paper plate so only about a 1-inch thick rim around the plate is left. Paint the plate and decorate it with beads or dry pasta. You can hole punch holes in the front of the plate and tie some string to it. Your little one will be able to add beads and pasta to the strings, too.
Kente Cloth Making
Look up what the different colors mean for the kente. Have your little one intentionally paint two pieces of paper. You want the papers to look completely different. You can add texture by painting with a fork to help get the lines that are in kente cloth.
Once dry, cut one of the papers into 1 to 2 inch strips. Fold the other sheet in half (hamburger style). Have the fold on the left side and cut strips starting on the left (the fold) and cut straight across to the other side. Stop cutting about 2 inches from the edge. Cut another strip, starting at the fold, and cutting across. Again, stop 2 inches before getting to the edge.
Do this a few more times so there are 5 cuts on the paper. Help your little one to weave the strips into the paper with the cuts. You can tape or glue the strips in place once you have all the weaving complete.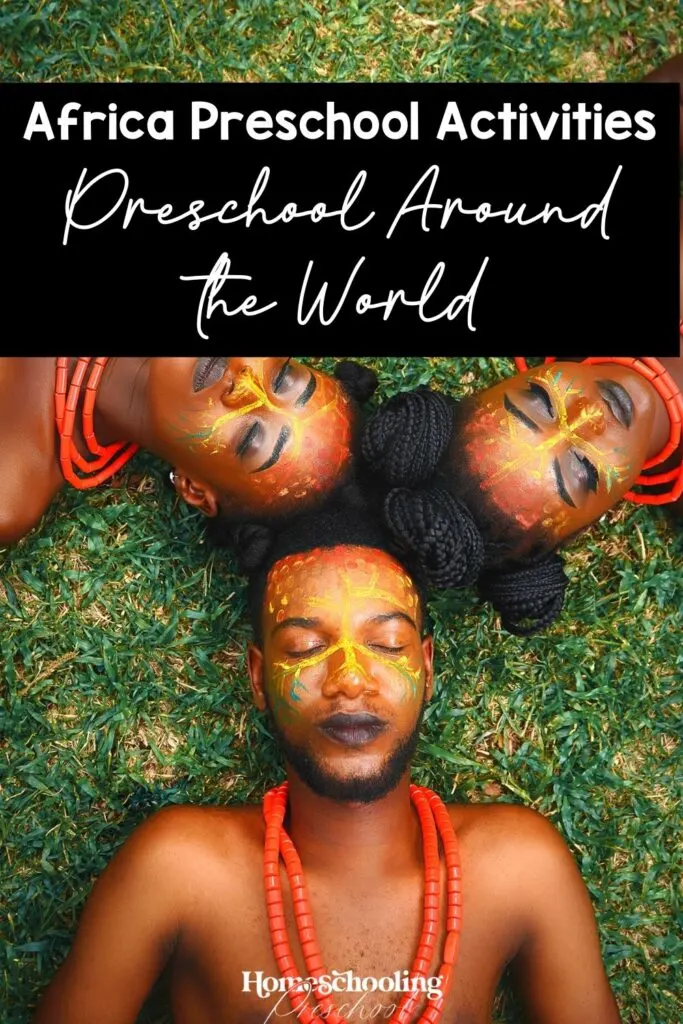 Math Activities
Pattern Making
Necklaces carry a lot of meanings for African tribes. They can signify many different things. Have your little one make his own necklace pattern with yarn and beads. Challenge him to make more complex patterns than alternating colors.
Animal Math
Print off images of African animals. When picking images, choose ones that have varying numbers of animals. Have your little one put the pictures in order from the most animals to the least animals. You could also put out pom poms (or another manipulative) and have your little one put pom poms under the picture for each of the animals that are shown. For example, a picture with 5 giraffes would have 5 pom poms under it.
You can reuse these animal images in other Africa preschool activities like the Fill in the Map activity.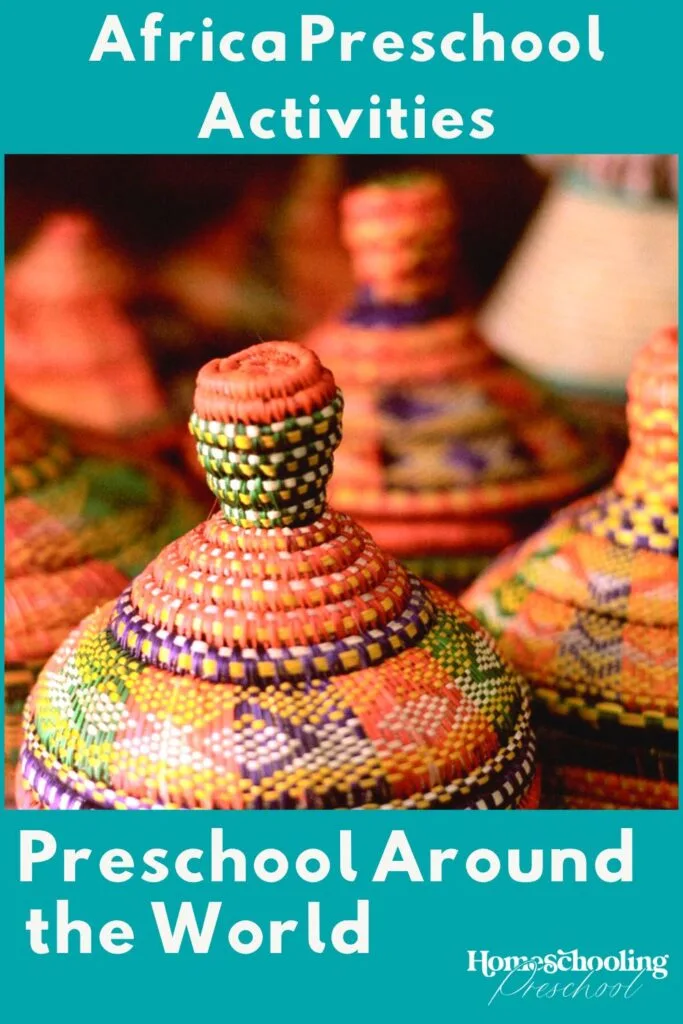 Language Arts Activities
Read Books about Africa
There are so many good picture books about Africa. From "The Water Princess" to "We All Went on a Safari", you are sure to find inspiring and entertaining books.
Listen to Swahili Numbers
Listening and speaking are important language arts skills. By listening to and practicing saying numbers or words in a new language will help your little one to connect his language to another language. The connection of "one" in English and "moja" in Swahili will bring joy to your little one! Hopefully, your little one will hear people speaking a different language and appreciate it instead of thinking that the new language is weird. With this activity and the help of other Africa preschool activities, your little one will be sure to understand that people live differently than he does.
Music Activities
Make a Mbira (African Thumb Piano)
Using an old shoe box, cut a circle (about the size of your palm) out of the middle of the top of the shoe box. Take 4 bobby pins and stretch them open 1 to 2 inches wide. Tape the bobby pins so the flat size is halfway over the hole. Paint, if desired.
Pluck the bobby pins to make them vibrate to make music.
Listen to African Music
Turn on some African music as your little one is working. There are some African children's songs on YouTube that your little one can learn, too. This is a perfect way to set the stage when your little one is doing the other Africa preschool activities.
Cooking Activities
Make an African Recipe Together
With over 50 countries in Africa, there are many different tastes and styles of cooking. Find a yummy-looking recipe and get cooking together. Making food and doing Africa preschool activities in one activity sounds like a win for a tired mama!
Grind African Spices
If you have a mortar set, allow your little one to grind up some spices that came from Africa. A few to start with are vanilla bean, cumin, garlic, and cinnamon.
If you don't have a mortar set, you can still put the spices in little jars and allow your little one to smell and make a mix with them. (You can add this mix to homemade play dough if you don't want to waste it)
Africa Preschool Activities
You can do many different African preschool activities with your little one to help teach cultural acceptance. These are just a few Africa preschool activities to help kick-start your homeschool preschool around the world!
YOU MAY ALSO LIKE…