Teach your little ones about the wonders of unique creatures. Entertain young learners with magnificent children's dragon books.
Fierce, funny, and fiery dragons are a wonderful topic to read about. Encouraging imagination and creativity, these mythical creatures will grab the attention of young learners. Every dragon-loving little one will surely be enthralled with whimsical dragon stories.
Children's dragon books are perfect for storytime or anytime, really. Fascinate preschoolers with tales about super silly dragons, daring dragons, and curious dragons. This collection of dragon-friendly stories will capture the hearts of little ones, and teachers, too! If you have been thinking about including books about dragons in your homeschool library, we have got the list for you!
Enter a world of imagination and breathe some fire into your classroom with this list of dragon stories for toddlers.
Dragon Stories for Toddlers
Laugh out loud with this silly story about an exciting party with dragons. Toddlers will appreciate the bright and bold illustrations, as well as the funny storyline.
Motivate young children to brush their teeth with this helpful dragon tale. The rhyming story pairs well with the colorful imagery to grab the attention of young learners.
Enjoy this book about a dragon who just keeps growing. This easy-to-read story delivers an important message to students of all ages.
Share this cute classic tale with preschoolers. Enchanting and magical, this story will capture the hearts of little learners.
Join in on the task of trying not to wake up a very sleepy dragon. Perfect for a read-aloud right before nap time, this interactive story will surely delight children as they get ready to close their eyes.
Meet a dragon who loves books in this clever story. Filled with imagination and whimsy, this tale will charm even the youngest of readers.
Embrace all types of differences in this unique read. Full of funny moments and vivid illustrations, this is a great pick for preschool storytime.
Go on a magical journey with a young boy and a dragon. This interactive book will entertain preschool students and teachers alike.
Face your fears with this great dragon tale. Little ones will learn about friendship and kindness by reading this exciting story.
Have a tasty adventure with Drake the dragon. Interesting and engaging, this book makes a wonderful addition to any homeschool library.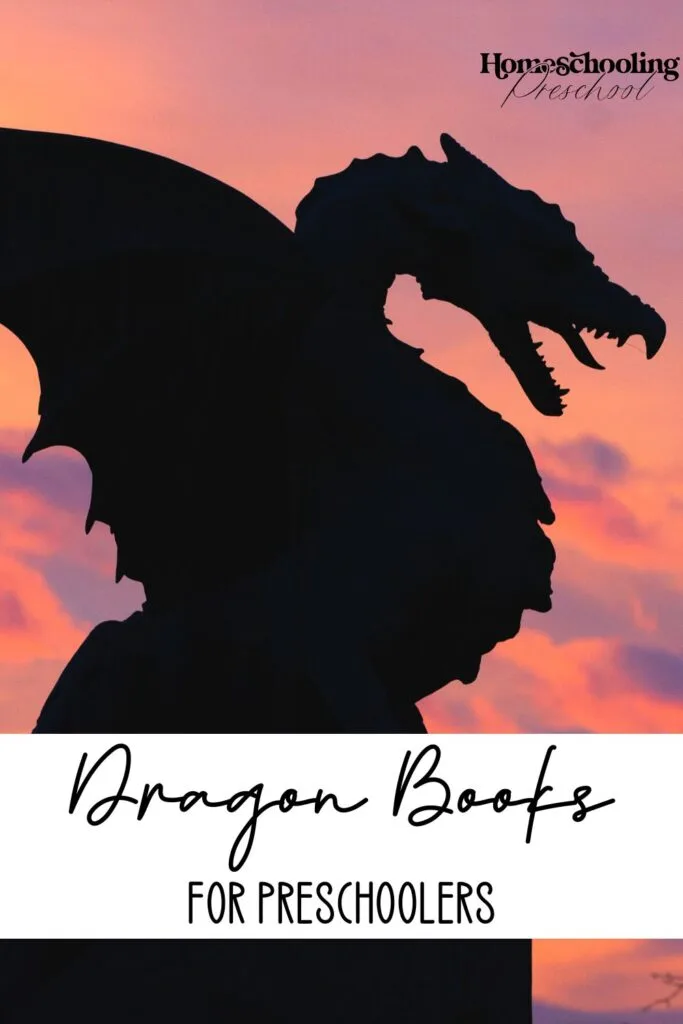 Books About Dragons for Preschool
Books about dragons for preschool are excellent to share anytime. This collection of books, in particular, is perfect for little ones who love dragons, and those who have yet to discover these fine creatures. The imaginative stories combined with teachable moments make all of these dragon tales a must-have for preschool students. From friendly dragons to fierce dragons, these books will take your littles into a magical world like no other!
You May Also Like…