Spark creativity with these unique books about imagination for preschoolers. Enjoy playing and imagining with your little one.
Imagination creates a world of endless possibilities. It is a superpower that combines creativity and curiosity. Imagination is essentially the magic of childhood. Toddlers that are encouraged to imagine are given unique opportunities. They can experiment and explore their thoughts, feelings, and surroundings safely. Through imagination, children can learn and grow in a way that is beyond teaching.
Celebrate creative thinking by sharing books about imagination with little learners. Books about imagination will help to spark creativity, foster pretend play, and nurture curiosity. They can inspire originality and build confidence. Share imaginative books with preschoolers whenever possible. Books about imagination are also a good idea to read during a unit on imagination, self-discovery, and creativity.
Take a look at these incredibly imaginative books for children.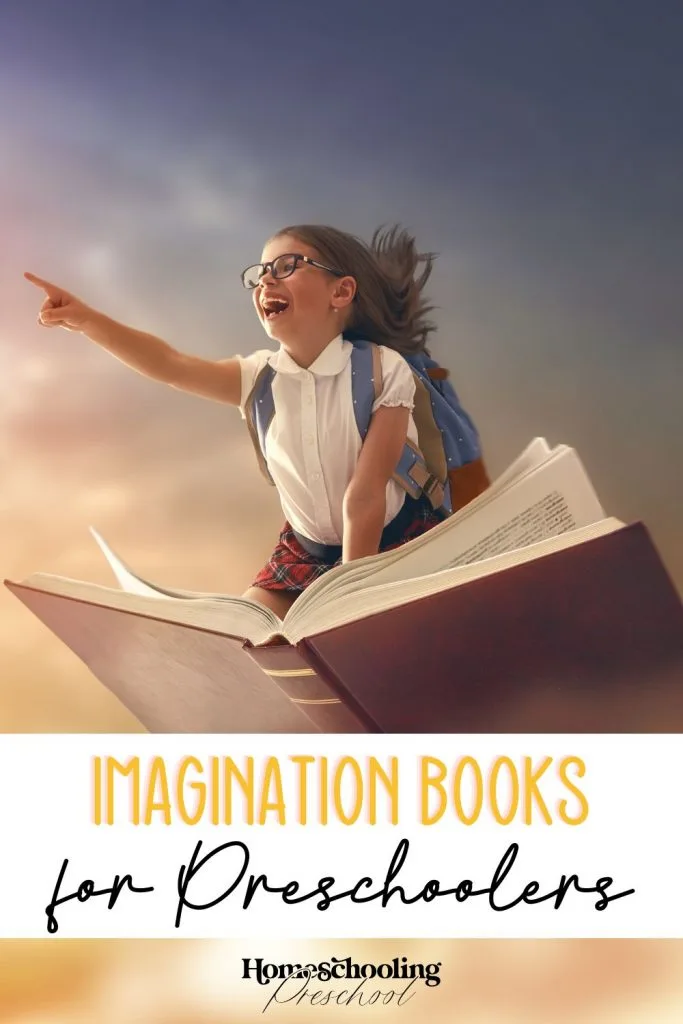 Preschool Imagination Books
Take toddlers on a trip to a magnificent land of wonder. This picture book brings imagination to life in a manner that is perfect for young readers.
This clever book supports pretend play with blocks. Little ones will discover new and creative ideas for block building.
Capture children's attention with this relatable read. Each page presents familiar experiences and feelings in a way that little ones can understand.
This page turner will be an instant favorite book with preschoolers. The catchy and imaginative storyline will draw kids in and take them on a whimsical ride.
Encourage creativity with this exciting story. Filled with rhymes and repetition, this book is a great addition to a homeschool preschool library.
This wonderful read celebrates the curiosities of the world. Little learners will be able to make connections to the thoughts and questions written about in this unique book.
Let the imaginations of little ones run wild with this award-winning read. Clever and playful, this story will delight both children and adults.
This charming picture book is a story about magic and friendship. Inspiring little learners to use their imagination, children will adore this heartwarming tale.
Have adventures with Harold in this playful 3 book compilation. The cute and classic storylines will spark creative thinking in little learners.
Let imaginations run wild with this make-believe tale. The beautiful artwork and fun story will engage young readers.
Imagination Books for Homeschool
Encourage children to think and dream with this wonderful collection of imagination books for homeschool. These creative stories will inspire little ones to unleash their creativity and stretch their imaginations to the fullest.
How will you promote imagination with your toddlers in preschool?
You May Also Like…