Come out of your shell with these incredible tortoise and turtle books for preschoolers. Both fiction and nonfiction are included.
The Difference Between Tortoises and Turtles
One of the main differences between tortoises and turtles is that tortoises spend most of their time on land. Turtles, on the other hand, spend most of their time in the water.
Many turtles come on land occasionally (like laying eggs) but have adapted to life in the water.
When to Use Tortoise and Turtle Books
Any time is a great time to learn about the diverse world. Tortoise and turtle books are a great way to learn about new creatures.
Learning about animal habitats is a perfect time to read turtle books and tortoise books. Because the main difference is where they live, books provide an excellent opportunity to explain the difference.
The turtle books would pair perfectly with an ocean theme or unit.
Regarding tortoise books, a unit or theme about land animals would be an excellent opportunity to read these books.
Keep reading to check out the book list of turtle books! Tortoise books are included, too!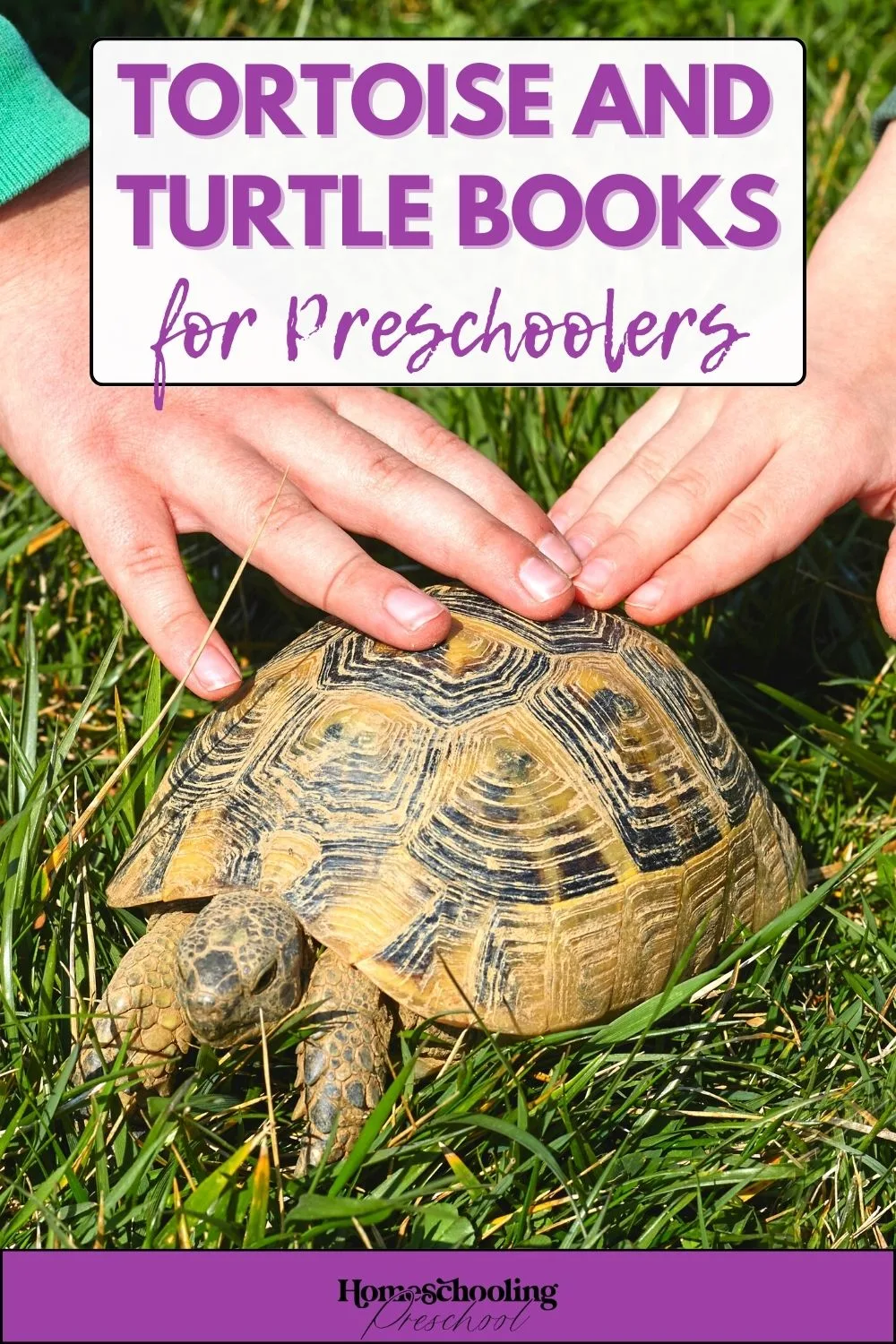 This article may contain affiliate links to products that may help you when homeschooling preschool.
Top Turtle Books for Preschoolers
Help little ones learn about turtles with this nonfiction turtle book. The simple sentences and beautiful photos make it ideal for preschoolers.
Sea turtles are unique because they return to the same beach they were hatched from.
Learn more cool facts with this short informative book.
What will Terrance the turtle do when he is born without a shell? He'll improvise with a box!
See how he deals with skeptics (and the idea of being different).
Explore the five senses with Chubs, the newly hatched sea turtle.
A baby sea turtle goes out to find his mama after hatching. The repetition on each page is a catchy way to get your preschooler to predict what comes next.
Come along as Little Tortoise goes to school for the first time. Her worries are eased when she meets her new teacher.
Truman by Jean Reidy
Truman, the tortoise, must put on his brave face when his human leaves. Truman's facial expressions are a great way to talk about emotions with your little learner.
When the tortoise gets tired of being slow, he leaves his shell. But living without a shell may not be as easy as he thought.
A pet tortoise was not what a young girl had in mind when she asked for a new pet.
After spending time with her pet tortoise and finding ways to have fun, the young girl couldn't imagine having a puppy instead.
When her tortoise goes missing, all she wants is to be reunited.
All Tortoise wants to do is take his long winter nap, but Tortoise's friends are determined to keep him awake to show him what he is missing.
Make counting practice fun with this book about animals at the pond.
Help teach your preschooler the importance of being a responsible pet owner with this lovely Franklin book.
After getting home, Arfy notices a pet turtle in his vest pocket. He goes on a mission to find out where this little turtle calls home.
What starts as a competition between two turtles ends with them sharing the prize.
Turtle Tug uses his turtle powers to help save his sea-dwelling friends in the middle of a dangerous storm.
Book List of Turtle Books
From books with morals to informational books, this book list of turtle and tortoise books has it all. Preschoolers will love reading stories about turtles and tortoises.
You May Also Like…