Finding the right homeschooling resource for online learning can be tricky! Thankfully, there is a tried and true option that is perfect for little learners. Meet BrainPOP Homeschool!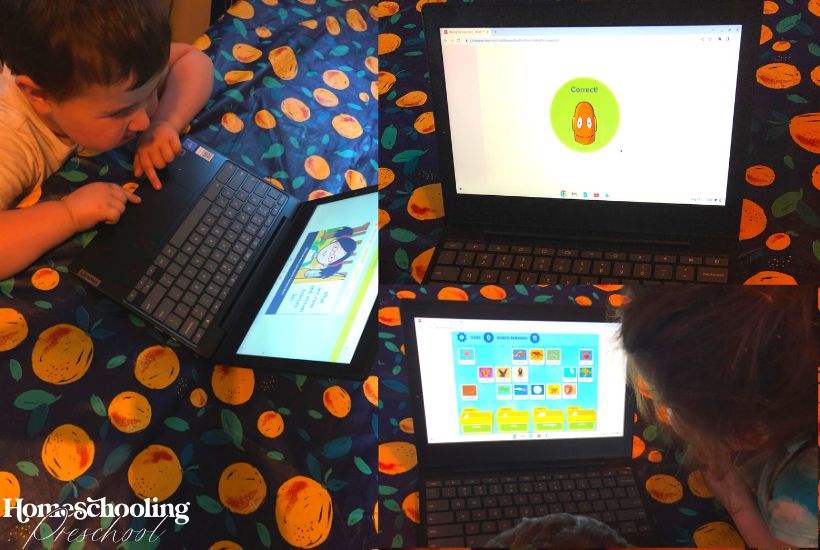 I was compensated for my time to write this post. All opinions are my own.
A Homeschool Curriculum Parents Can Trust
Most people know BrainPOP for its videos that are great for teaching many different topics covering the core subjects, but it is so much more than that.
BrainPOP Homeschool Jr and BrainPOP Homeschool Combo are active learning experiences that keep your kids engaged instead of them sitting back and passively watching a video. This approach is proven to boost achievement.
The content is made specifically for kids so homeschool parents know that the content is appropriate and it is perfect to use as a homeschool supplement to what you are already teaching your little ones.
BrainPOP Homeschool is the perfect way to start homeschooling. It was made by a leading ed-tech company and is trusted by 6+ million educators. It was used by 70% of schools during the global pandemic while learning was online!
The creative projects and learning games (such as movie-making, coding, and simulations) allow kids to show what they know in their own ways. This gives your kids the autonomy to take control of how they learn which, in turn, makes them feel ownership over their work. While they are doing this, they are creating a deeper understanding and higher-order thinking skills across all subjects.
BrainPOP has a mission to empower kids to shape the world around them and within them. It brings high-quality, teacher-approved education tools and content home, to help every kind of learner connect deeply to what they are exploring.
There are a few different options for BrainPOP's Homeschool programs. BrainPOP Homeschool Jr is for grades K-3 and BrainPOP Homeschool Combo is for grades K-8.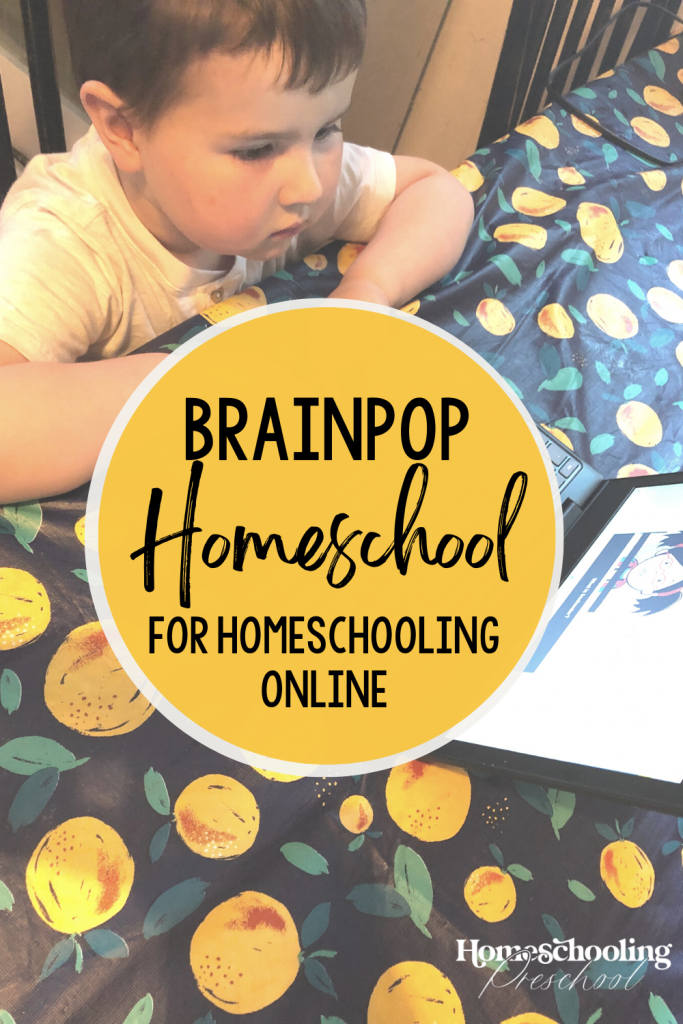 Teaching Kids to Use Technology
Homeschooling families can trust BrainPOP's safe platform with their little ones. There are many things that little learners can do without families having to worry about what they are learning and if they are interacting with other people online.
Clicking, moving a mouse, and learning how to answer quizzes are all things that your little ones will be able to work on in a safe and controlled environment on BrainPOP Homeschool Jr.
BrainPOP Homeschool Jr. and BrainPOP Homeschool Combo are available on tablets so that learning can still happen while families are on the go. Little learners will be able to learn and be entertained while traveling or while waiting at the doctor's office.
See Your Child's Progress While Using BrainPOP Homeschool Jr.
The more little ones are on BrainPOP, the more comfortable they become with using the technology and learning about things they are interested in.
Homeschool parents can track the progress that their kids are making on BrainPOP Homeschool Jr. and BrainPOP Homeschool Combo. Custom assignments can be created, assigned, and tracked with ease from the teacher dashboard for up to four learners. This helps kids get individualized assignments to ensure that core competencies are being met.
Lesson plan ideas, tips, and how-tos are also available in a professional teaching hub if homeschool parents are interested or need ideas.
What We Love About BrainPOP Homeschool Jr.
As a homeschool mom, I love that I can trust BrainPOP to have quality content that my kids can learn from. I don't have to worry about if it is appropriate because I know that it was made with kids in mind.
It is also easy for my kids to navigate which is why BrainPOP is my go-to for homeschool resources. Reading, writing, science, math, social studies, technology, and art are all available on BrainPOP Homeschool Jr. and BrainPOP Homeschool Combo. There is so much for my kids to see and learn!
There are many different options for ways my kids can learn, as well as, to show me what they know. I love that! One of the reasons we chose to homeschool is so that all learning isn't assessed by a test. BrainPOP plays a large role in helping me to accomplish this.
My kids love that there are games that have to do with the units we are studying. They don't realize that they are critically thinking and learning as they are sorting animals into different groups or while they are learning how to read a map.
They also get excited when they hear something we talked about brought up on BrainPOP! My kids ask to go on BrainPOP daily because they love it!
Try BrainPOP Now
Now your family can try BrainPOP for themselves with up to 28% off an annual subscription and a 2-week FREE trial! It's the best tech investment you can make in your homeschool this year!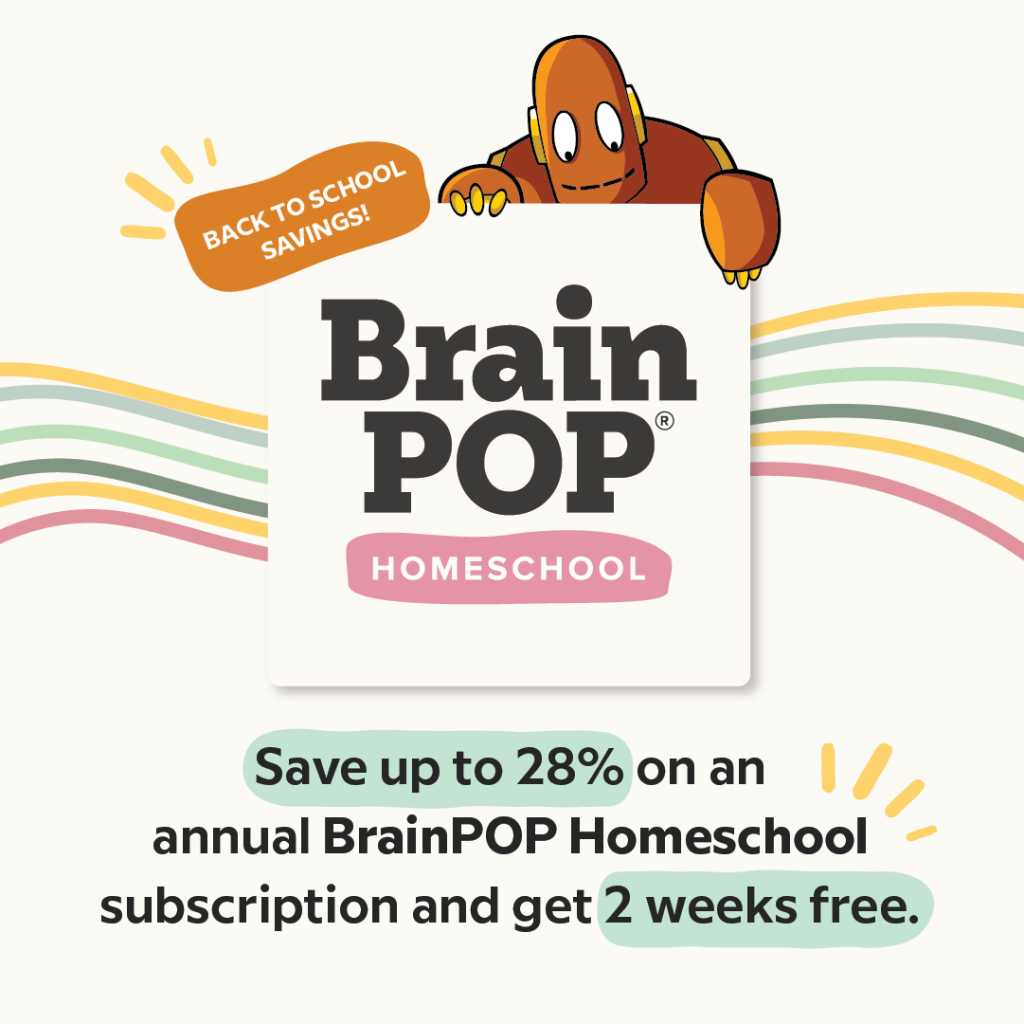 YOU MAY ALSO LIKE…